Americana International: UK Classic Motor Show 2006
by Chris Dunnett, overseas correspondent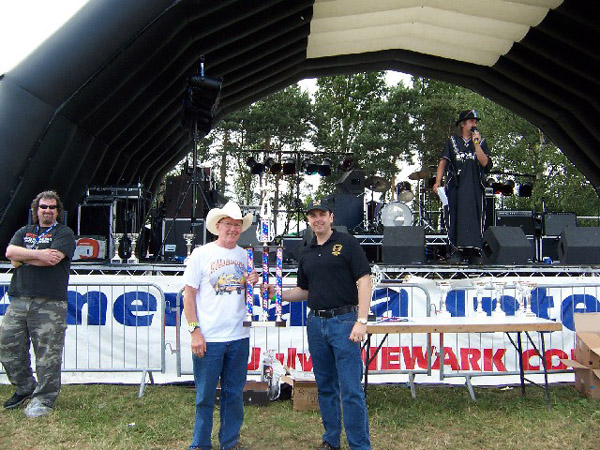 NEWARK, ENGLAND: July 6-9, 2006 I attended what is billed as "the largest American lifestyle event in Europe." Americana International http://www.jacksonville-americana.piczo.com/?cr=1&rfm=y is a huge weekend festival featuring almost 50 live bands playing country and old time rock 'n' roll music. It also boasts probably the largest gathering of classic American cars in the UK, in addition to Harley Davidson bikes and acres of big, American-style RVs for accommodations. This was the 26th year for what is truly an impressive and entertaining event that attracts over 70,000 attendees.

I happened to learn about Americana International from an ad in Classic American - a UK magazine dedicated to American cars. I decided that in my new role as a Cultural Attaché at U.S. Embassy London that this was an important celebration of American culture that the Embassy should support. So I was up at the festival in a work capacity (nice gig eh?). The Embassy put on screenings of several documentary films on U.S. Route 66 as an educational program to draw on the interest in cars of the British attendees to help them better understand the many impacts on U.S. culture and society of the opening up of the country through interstate road networks. We also supported performance of Native American music and dance, and provided two really cool trophies for "U.S. Embassy Choice" awards for best American car and Harley. I got to select the winners and award the trophies, which was fun. I also got our Ambassador to attend the event. It was quite different from the political and high society events he usually attends, but he had a great time. He got a tour around the show site in a spectacular '59 Cadillac convertible. Check out the big smile in the posting on our Embassy website!
Embassy of the U.S. London: Ambassador Robert Holmes Tuttle: Speeches, Remarks and Events

My wife and I had a great time wandering around the huge show site looking at many of the about 2,000 cars on display. There was a wide selection, with something for everybody from '59 Caddy Series 62 convertibles, to T-bucket hot rods, a pristine winged Dodge Daytona to a primered '72 LeMans project car, 80s family wagons and even an 80s vintage police car reminiscent of Buford T. Justice.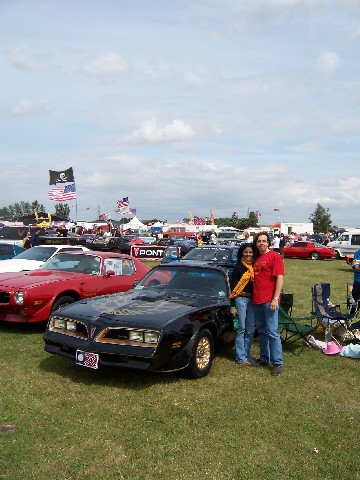 Pontiacs and F-body muscle were certainly well represented, with examples from classic "heavy iron" 50s Star Chiefs to 1st - 4th generation birds. And it was clear that our beloved black and gold "Bandit" color scheme is also very popular in the UK. I did not see any T/As I could verify as genuine Special Editions in order to recruit new international club members, but there were a raft of nice looking clones. There were a few of the popular 77 models, as well as a couple of 79s and a very nice looking 1980 Turbo T/A that might have been a genuine S/E. It has a nice combo of the black and gold exterior with a subtle custom parchment and tan interior that looked fantastic.

I took the great fellowship we enjoy in the Bandit Club to the show. My wife and I had the pleasure of meeting and enjoying the company of a set of die hard Trans Am folks from Newcastle in northeast England. Chris and Julie Swindon are the proud owners of a 77 Trans Am well dressed in S/E striping. Chris was a bit frustrated with some mechanical problems during the trip to the show, but it was clear that he has put a lot of time, work and love into his T/A. We all know that in the U.S. bringing these 30 year old cars to the state we want them is hard enough. Imagine the additional challenges our fellow T/A lovers abroad face. The dedication of the folks I met and the results they are able to achieve is really impressive. Chris Jardine owns another 77 black and gold T/A with Carmine Red custom interior and the rarely seen American T-tops. Dave Thacker has a gorgeous red 73 T/A. I just love that early 2nd generation Endura nose. We partied to the wee hours with our new friends enjoying the fantastic "Bon Jovi Experience" tribute band. Only problem was some confusion with three of us named Chris. You can see photos of our Newcastle Trans Am friends and their cars in the Gallery at: http://www.bandittransamclub.com/gallery/album05

Newcastle Chris & Chris gave me a real treat by providing Chris S's car for me to take a few Bandit car photos with me and my big boss, U.S. Ambassador to the United Kingdom Robert Tuttle. A bit of a diplomatic coup in honor of the trans-Atlantic Trans Am connection. That one is in the gallery album above as well. The Ambassador is a very down to earth guy who owns a group of car dealerships in California and Arizona (alas, Ford and Chrysler), so he knows a thing or two about cars.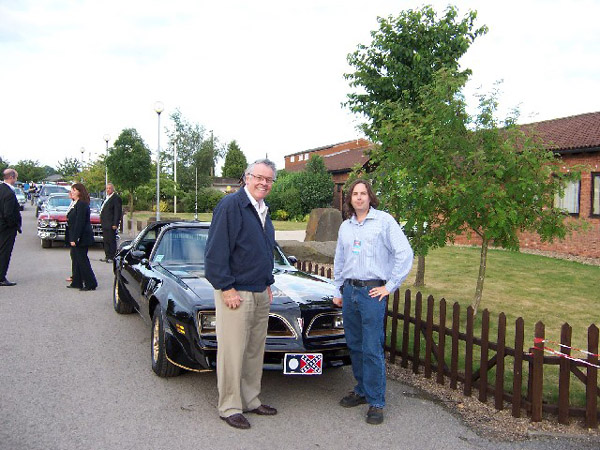 On Sunday, July 9 I was proudly wearing my Bandit Trans Am Club shirt for the biggest day of the car show. Chris & Chris were again kind enough to bring their cars together to help me get some good Bandit photos for the Club. Those photos with others and captions that add further detail on the event and some of the cars are in the Gallery.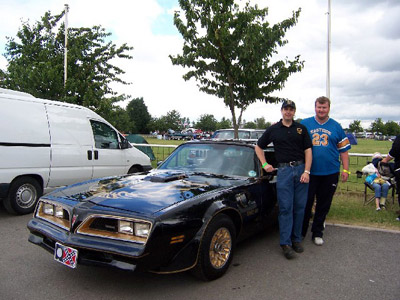 In my line of work we concern ourselves with what some say is growing anti-Americanism abroad. Well you sure didn't feel any of that at Americana International. The Stars and Stripes was flying everywhere. There is a huge community of people here in the UK with a passionate devotion to American cars, and things American in general. Such appreciation of the best each other have to offer is part of what makes the British our best friends in the world.

Reporting from London

Chris Dunnett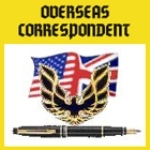 ---