Do me up a drawing of a Bandit will you?
By: Patrick Smith
Burt Reynolds & Hal Needham: The 1981 Interview!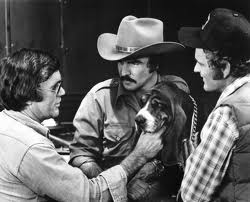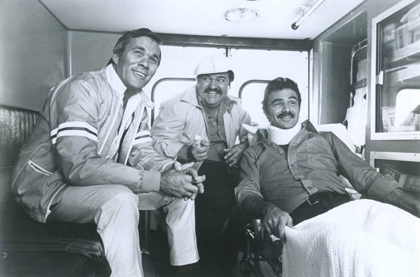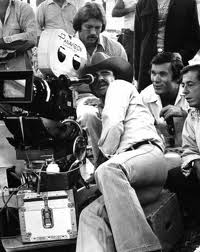 Some vintage photos of Hal and Burt together on the sets of Smokey and the Bandit 1 and 2.
PHS Media Archives uncovered a long lost interview featuring Burt Reynolds and Hal Needham done in the summer of 1981. This article appeared in Auto Sport Canada magazine in the July issue. The interview was done by Carl E. Nordberg. I added some pics of Burt Reynolds from the 1981 Bandit sequel as this article was black and white only. With the announcement of Burt Reynolds and Year One launching limited edition Bandit reproduction Trans Ams, this article offers a perspective on what it was like during the tail end of the original Bandit era. Enjoy this bit of vintage Smokey madness.
INTERVIEW: HAL NEEDHAM & BURT REYNOLDS
We'd done a reasonable bit of homework on these guys before the interviews and learned some fairly interesting things. To wit:
Hal Needham is 48 years old and had been doing stunts for 24 years before his directorial debut with Smokey & the Bandit. As stunt man, he was the highest paid in Hollywood. His debut- a little action-comedy chase film, as the trade called it, grossed more than $250-billion dollars, making it the fourth highest grossing picture ever made.
Needham's been car crazy most of his life. As stuntman, he's performed every feat with an automobile that can be done. He holds the record for both the track jump (128 feet) and boat jump (138 feet) and he owns the rocket car that Stan Barrett drove to break the sound barrier.
Burt Reynolds is 45 years old, Needham's room mate and has been directed by him in three of his biggest films- with another likely hot seller about to be released. Reynold's love affair with automobiles may not be as well known as some of his other affairs, but he definitely enjoys making car films the most. Together, Reynolds & Needham have done Smokey & the Bandit, Hooper, & Smokey & the Bandit II. The latest joint venture is Cannonball Sea to Shining Sea Memorial Trophy Dash, a film based on the actual race of the same name. It was an illegal coast to coast race consisting of 45 car crazies, with the start on Connecticut and the finish in Los Angeles. In real life, Needham and his co driver, Brock Yates, built an ambulance with a blown 460 Chrysler, and managed to defy the "Smokeys" and set new records. With Needham directing Reynolds from a Brock Yates script (Yates also wrote both Smokey scripts), the new film is simultaneously being released in 1,200 cities throughout North America on June 19th.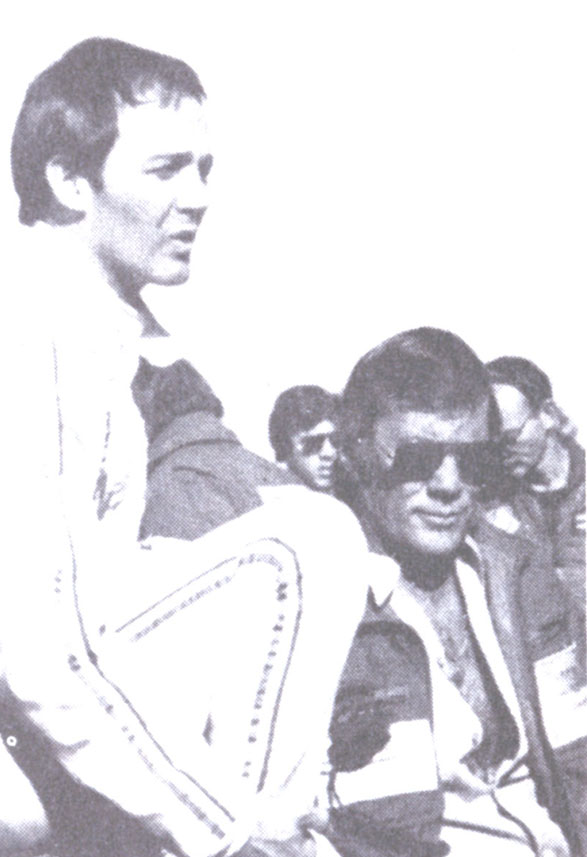 A young Hal Needham.
Even armed with this knowledge, this awareness of the level of interest these two guys have in hot cars, there was no way to prepare for what followed. It seems natural that one of the first questions asked about the Reynolds/Needham Skoal Bandit Racing Teams would be why? Reynolds relates it to the Smokey films.
BURT: "No one knows for certain why Smokey & the Bandit was so well received. I do know that some inexplicable magic occurred while we were filming it. I've seen it many times and all I know is that each time I watch it, it makes me smile. And every time Hal and I talked about owning a racing team, that made me smile too. It eventually got to the point where we were saying, " If it feels that good- let's do it."
When you ask Needham about racing, it's like granting him a licence to filibuster. His answer follows.
"Lemme just give you a thumbnail sketch on how this whole thing got started," Needham states in his opening remarks. (This is the time where everyone who knows what's coming leans back in their chairs, folds their arms and smiles.)
"When Stan Barrett established the new World Land Speed Record, I made the fatal mistake of asking him what he most wanted to do in life. Well, he said he wanted to go Indy car racin', Well I just love old Stan too much to let him go 'n do that. He could get himself killed in one of those things. So what we did was get Stan into the Grand National series. We got him a Pontiac Grand Prix and I think the son-of-a-bitch is gonna win some money this year."
And he was off. Laughing as he remembered funny things that had happened, Needham was alive.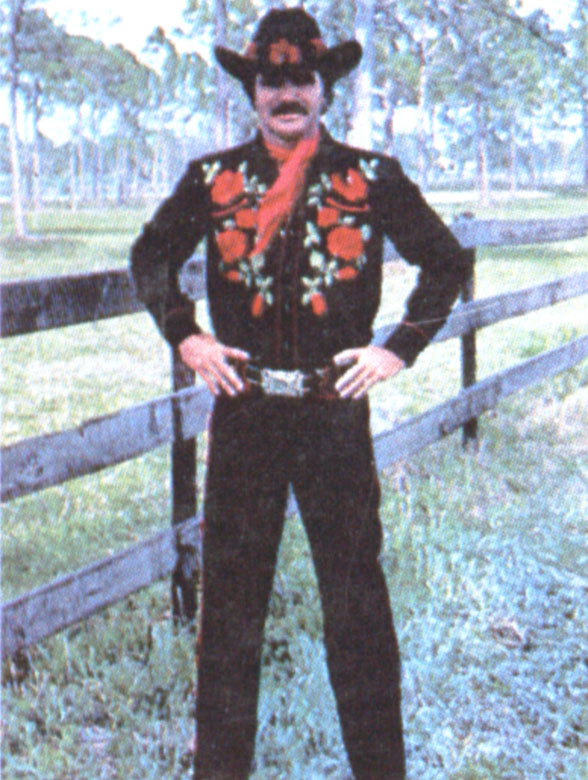 Burt dressed as a Bandit
"What we wanted to do was develop an umbrella for the racing thing. We wanted a visual identity so people could say, " Oh, it's that's the Reynolds/Needham deal'. So we got the stock car deal goin' with Stan. Well there's a guy out here that works with 'packaging'. He came to us and said he knew Graham (Mc Rae) and the addition of a road-racing Can-Am team would be the best thing to expand our 'package.' Well, the next thing you know, along comes Billy Meyers and now we got a 'Funny Car' in the NHRA drag racin' series. All of a sudden we got the biggest package in racin.'
"Well, what we got is this green and white appearance with a great tie-in with Skoal. Man, it's a beaut, Know what we're doin'? We're havin' fun. But let me tell you, this is a business and that's the way it's gonna be run. "I stay on top of everything. I want to know what's going on. And I make my own decisions about people. I really get pissed off with these people who come to me with this story and that story about our drivers. You know what they're doin'? They want us to sponsor their car. Just sit and listen to 'em long enough and when they get done runnin' down the guys we got now they'll tell you why we should be sponsorin' them. Pisses me off is what it does.'
"Oh yea, the package. Hey listen you aint seen nothin'. We got Marman trucks for haulers on these cars. And they're black. And we got a picture of the race car painted on the side of each truck that's about 30 feet long. Man, they look like they're going a thousand miles and hour comin' down the highway. Well, we're gettin' all three trucks together in Ohio in June and it's goin' to be the God damndest thing you ever saw. Just lookin' at 'em is gonna make you laugh."
Needham was already laughing so hard he could hardly talk- and he was just thinking about it. It goes without saying that the people at Skoal are ecstatic. Everyone else in racing busts his hump trying to find a sponsor. These guys walk into US Tobacco and tell them that Burt Reynolds and Hal Needham have a stable of race cars that Skoal can paint their name on. An absolultely incredible lady by the name of Jill Amadio takes care of publicity efforts for Skoal. She says, "it's a riot. We never know what's going to happen next. The exposure for Skoal is unbelievable, but we're running this whole show with a PR staff of three people. Hal calls up with stuff like " Shit Jill, I talked to three people today that didn't know about Skoal. Do me up a drawing of a bandit will you? We'll show them." The stories are endless. And it seems there'll be a steady supply of stories because Reynolds and Needham are in racing to stay.
Hal Needham talks about his new book STUNTMAN!