Jason Ashbrook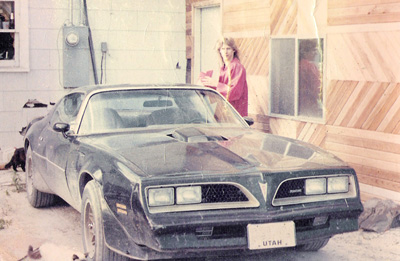 OK, here's the story about my '78 TA;
I, like others here, absolutely loved "Smokey and the Bandit" and yeah, I was young enough to really enjoy it. That car was SO COOL! By the time the 2nd movie came out I knew I just had to have a Black and Gold Trans Am.
My dad bought the car from a California Dealer in the fall of 1980, he had just gone through a divorce and was looking for a new road to travel. And according to him, finding this car with a 400 and a 4 speed was a rare find in California. I'll never forget the day he pulled up in it. He was the coolest dad on the block.
He had this car while I was growing up and learning to drive. Which was an interesting challenge all in itself, I either killed it, or burned rubber! Anybody remember the movie "Risky Business?" The cool car, the cool music, the popped clutch... Restart the cool car, restart the cool music…that was me!
I bought her from my dad when I was 18 for $3000. By that time, the paint had faded, the bird on the hood was gone, the tranny had been rebuilt, and she had 74,000 miles, but she was (and still is) my dream car. I drove her everyday as my only car, and even walked for a year, while I got her out of the repo yard, which is another story for another time. I used her for collateral to buy my first truck (a '74 Blazer) in 1989 and she has been shut down and parked ever since. Most of that time out in the weather unfortunately, and the So. Utah weather isn't kind.
Back when she was my everyday driver, I had to have the engine rebuilt, due to a carburetor screw finding its way into a piston and cracking the head. Talk about a one in a million. And I put in another Borg Warner 4 speed when the original wouldn't shift into second. I got tired of "pegging" the 100 mph speedometer, so I put in a 160 from a 69 firebird. And of course, a cassette player. (still have the 100 mph, as well as the original 8-track.) I had taken a body shop class in collage, and practiced on my car. Luckily, I didn't screw anything up, just a little bondo in the dings and primer. But during this time I realized that whoever had this car before my dad, must have had a fender bender in it. The passenger front fender has been bondo'd pretty good and the grill on that side has been replaced with the 77 honeycomb style instead of the diamond pattern used in 78. If the accident was worse, I sure cant tell.
The last few years have been for working on a family and a home. Now I finally have a garage to do to her, what I've always dreamed of doing. Due to the income, it will probably take me years to do it, but at least, I can finally get started.
As I research and learn more and more about the codes and numbers and such, I realize there is still a lot to learn and even more to do. And being my first restoration, I need to take my time and do it right! Looking at the pictures of others, and reading the forums, makes me itch even worse to have my car back on the road and the wind thru the t-tops.
Jason Ashbrook



---