Jeffrey Evans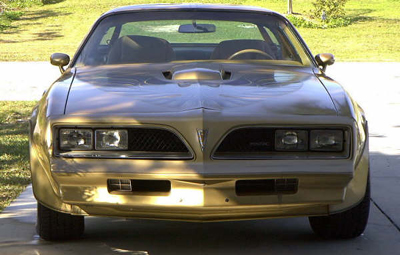 I want to start by saying this is my second 78 Gold SE. I bought the first one brand new in San Antonio , Texas. I had just graduated high school. I was driving a 77 Grand Prix LJ that I had just bought at the Pontiac dealer that was on my way to work. I would stop frequently at night on the way home just to look at what new offerings they had. Well, I pulled in one night and right as I drove in, up on the platform outside the showroom; there it was. The most beautiful car I had seen to date. It sparkled under the flourescent lights not unlike in a dream. I had to have it!
I came back the next day and bought it for the full asking price of
$7895.00. For the next seven years I drove this car and put almost 100k on it. It was so dependable and easy to drive. A pure joy.
Of course I had seen the Bandit movie and found it very exciting like so many. I thought about a Corvette but I preferred the Trans Am.
I sold the first in 1985. I thought it was time to grow up! Well, at
44 I now think it's time to become as young as I can again lol. I'm certain some of you can relate to this. Such is life.
I found this second one quite by accident. I was driving to Ft. Myers from Port Charlotte where I presently live. Driving thru Punta Gorda on 41, a main road that runs the length of Southwest Florida, I caught a glimpse of a Gold Trans Am sitting outside an auto repair place, backed in to the side of the building. I knew at a glance it was the 78 Gold SE. After all, I knew this car very well. I made a U-turn as soon as I could and pulled in and up next to it. I felt like I was in a dream. I had been looking for one of these on Ebay for the last year. I had found one but it was too far away and in a condition I wasn't prepared to fix. This one looked very original. You might assume at
this point that I rushed in and contacted the owner but that is not the
case. I had my digital camera with me and took a few snaps from my driver's seat in the Tahoe.
I went home and downloaded the pics and looked at them for awhile. I decided against persuing any further action. The next day I had business in Punta Gorda. A neighbor called me to help him with a project he was working on. I did not know I would be going that way again so soon. As I made my way over the bridge I knew I was going to go see that car. I drove it this time. Of course once I did that I was HOOKED! I called the owner and negotiated his asking price; and picked it up the next day. I actually had tears in my eyes as I drove away from it that afternoon. I hoped that it would be alright overnight. I had already taken emotional possession. I met the owners the next day and we made the transaction. They had a lot of paperwork including the original title of the original owner. She was
a schoolteacher who bought it new and sold it in 2000. I bought it Dec. 30th 2004. I subsequently called her in Michigan and found that she is a semi-retired 70 year old. I have all the history of the Trans Am including all the work the previous owners have had done. The car is in very original condition with the original paint and decals. When I look at this car I feel as though I never sold the first one. I wonder if this was fated. I have done a few things like replace the carpet which had faded (as well as the underpadding), replaced the shifter plate with a NOS unit, replaced the drivers pull handle/armrest which had ripped and the cup handles which really could have just been painted. Also replaced the Gold nose emblem with a NOS piece. The interior is otherwise original and quite clean. There are no cracks anywhere and the car has never been smoked in. The lighter is
unused. The Gold on the steering wheel and the dash is nice. The horn button is not vracked or worn. The Gold eagle is good. All gauges are functioning properly and even the clock works! The second owners had changed the wheels to those centerline chrome
rims. They sold the original ones so I located a set in Ft. Lauderdale,
across the state and bought them on Ebay the night before I had even bought the car! I was determined to make this car the way it should be. The rims also had brand new Uniroyal 60 series tires so it worked out well. The wheels, while gold honeycombs, had aftermarket red bird caps. I found a set of new aftermarket Gold bird caps and bought them. Then I saw a set of used steel gold bird caps and that is what is on the car now. What do I do with the extra 8 caps?? I have been cleaning this car from top bottom including the engine bay,
undercoating etc (it had been undercoated when new-I have the paperwork). Of course it is a labour of love for me. I actually sold a 5 series BMW to make garage space for this car. Of the 30 vehicles I have owned since 1977 I can honestly say I have gotten the biggest thrill from both of these Gold SE Trans Am's. I have posted a few pictures of the first car at the end of gallery posts. The first pictures are of the second one. I will probably change a few as time goes by. I am contemplating having this one repainted but as of the present time I do not want to lose the original look. I may give in the future.

Jeffrey Evans



---