Jon O' Neall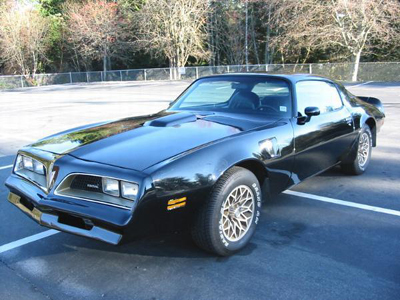 I've been a Firebird fan since back in the early 1980s. In 1983 I was 16 and got my first car… you guessed it… a Firebird. No, not a Trans Am, just a base model 1974 Firebird (Regatta Blue with a white vinyl top) with a Chevy inline 6cyl and 3spd manual tranny. It had 100k miles on it when I bought it and suffered from typical salt cancer (i.e. rust… I lived in Iowa at the time). But it was a great car and I had some really great times in that old 'Bird (and I wish I still had it). And it's what really started my love of Firebirds, which eventually grew into my obsession with the Trans Am (which is, after all, the ultimate Firebird). While I was in high school cruising around in my 74 a friend of mine had an older cousin who bought a black 1977 T/A (complete with Hurst T-tops, gold decals and gold snowflakes). At the time I thought it looked just like the Bandit car. In retrospect it was probably just a regular black (non SE) T/A… but regardless, it was flat out the COOLEST car in town, bar none! Well, I always loved that car (and it obviously made a big impression on me) but life moved on and after high school I moved to Arizona to go to college. Well, as much as I loved my 'Bird, black vinyl interior with no A/C out here in the 110+ degree heat just didn't cut it… so after a year I sold it and got a little economy car (with A/C) to use in college.

After college though, I decided I wanted another 2nd Gen Firebird, so after a quick look around I spied a 1979 Formula, Copper Sierra with the 301/auto combo. It had 99k miles on it and was in basically good order, so I bought it. However, shortly after doing so I started really remembering that black T/A from high school and realized I'd acted rashly in buying the Formula… what I really wanted was a Trans Am… no ifs, ands or buts!!!!!!! So I sold the Formula and went on the hunt for a T/A.

After a couple months I ran across a 1979 T/A, Nocturne Blue with the 403/auto combo and just 82k miles. I owned that car (and drove it as a daily driver) for about 3 years. It was a great car… that is… when I wasn't fixing it! It did have a tendency to be a bit of a money pit (with only 82k miles on it, it still had a lot of original parts on it just waiting to die once I started really driving it!) But all in all it was a great car and really cemented my love of the T/A. And it was pretty quick for a 2.41 rear-geared 403 (it did have true duals and headers). I spanked my share of 5.0L Mustangs on the hot streets of Phoenix in that car!

A couple years later I found a 1979 W72/4spd/WS6/Y84 for sale locally. Oh good gravy, I had to have it! Well, let's just say it wasn't in the best of condition, but I was blinded by the W72/4spd/WS6/Y84 combo… and I bought it. Not that it was trashed… far from it… and nowadays it would be considered a prime candidate for restoration, but back then it was a bit more than I was willing to sink my teeth into… so I sold it a few months later to take care of some mounting bills! I still had my 79 403 though, so I wasn't completely T/A-less… at least for the time being, but a couple months after that, it became apparent that I needed to get a more reasonable/reliable car. So the 403 went as well.

Then ensued a long period (5 years) without a T/A. Yes I wanted one badly, but I really wanted to hold out for a super nice, low-mile 77-79 W72. I knew that would take some $$$ and some patience though, so I just forced my T/A obsession onto the back burner and kept my eye out (and tried to save some cash!)

Then in 2000 I really started looking hard, and really got myself back into it full swing. It was then that I spotted a 23k mile 1977 W72/4spd/Y82 (i.e. Bandit) for sale up in northern CA. I called the guy and we talked, then he sent me some pics of it, then I called again and we talked again and agreed on a price and before I knew it I was up in Santa Cruz, CA buying it! By luck my dad happened to be in the Bay Area on business, so we drove it home together some 900+ miles! What a great trip. Totally fun and I even picked up a sixer of Coors to haul back (couldn't resist!)

Shortly after acquiring the Bandit though I realized that it was so nice that I was scared to drive it! So I decided I needed another T/A to use as a daily driver (to help curb my desire to put miles on the Bandit). So I sold my daily driver 1992 S10 pickup and started looking for another 2nd Gen T/A… unfortunately the market was pretty dry at that time and I couldn't find anything decent, so I ended up buying a 3rd Gen T/A… an 1987 GTA to be exact. It was a nice car (white with tan interior and the L98-350), but after only a couple of months I knew I'd made a mistake. I didn't want a 3rd Gen… I wanted a 2nd.

So I started looking again and found a 1979 T/A, Cameo White with the 403/auto combo, T-tops and WS6! And only 80k miles! What a great candidate for a daily driver. So I bought it and eventually sold the GTA. That T/A was a great car. Very reliable (only needed a couple easy repairs) and great fun to drive. Some people don't like 403s, and admitedly when I had my first one I always wished it was a 400… but I gotta say, they are really good daily driver motors… smooth, reliable, decent mileage (about 14 city) and with good low-end torque. Unfortuately, that car was stolen in September of 2001 and stripped! I really miss that car. It was one of my favorites… not because it was a super rare car or super fast, but because it was just a good, solid T/A that I could just drive and enjoy without worrying about it. Oh well, it's gone now (literally… gone to that great Poncho junkyard in the sky!)

Of course, I wanted to get another 2nd Gen after that, but got seduced by a shiny black 1997 WS6 T/A shortly after my insurance settlement. It had a 6spd and a Ram Air fed LT1-350 and was faster than any sane person needed to it to be! So, naturally, I bought it!

Then I got a wild hair and decided to sell my Bandit (which by this time I'd had almost 2 years (and had put about 5000 miles on)). Not that I didn't want a 2nd Gen anymore… I just was thinking maybe I'd either get one that was a little less nice and had a few more miles (so that I could enjoy it without the guilt of driving a low-mile car) or buy one with just ridiculously low miles (if I could find one) that would allow me to put 10k or 20k miles over the next few years on it and still be a low mileage car. I advertised the Bandit in the local paper on a Wednesday and by noon that same day it was sold! It happened so fast it literally made my head spin. I wasn't even 100% sure I actually wanted to sell it, and then the next thing I knew it was gone!

Now I was without a 2nd Gen T/A, so I went on the hunt again (which is half the fun, right? Come on, admit it!) And I found a 1978 T/A, Starlight Black with the W72/4spd/WS6 combo with just 2979 miles (yes, you read that right!). Of course, a super low mileage car wasn't exactly what I was supposed to be looking for this time, but how could I resist. Anyway, it was in Denver, so I had my parents (who were living in Denver at the time) go look at for me. They took a bunch of pics and filmed a video of it for me and sent them to me. It was stunning looking. Absolutely factory fresh looking and just flat amazing… BUT… then I saw it. It had aftermarket T-tops!!!!!!!!! AAARRRGGGHHH!!! And I just couldn't make myself buy it. As much as I wanted it, those aftermarket T-tops were just too much. Otherwise the car was perfect, and on a less pristine, higher mileage, more normal everyday type car it wouldn't have bothered me, but on a car with less than 3000 miles I just couldn't do it! I was heart-sick.

So back on the hunt I went. And low and behold that very night (after deciding against the 78) at www.hemmings.com I found an ad for a 1979 T/A, Cameo White with the W72/4spd/WS6 combo and just 7300 miles!!! I called and left a message and the next night the owner returned my call. We talked and he agreed to send me some pics of it (he was located in Pennsylvania). A few days later they arrived and I was just knocked out by its red/orange decals and Carmine Red vinyl interior. I was in love! But a little cautious considering how I'd fallen for the 2979 mile 78 just a few days before, and how that whole deal had fallen apart. So I called the owner back and we talked some more and he agreed to make a very comprehensive video of the car. A few days later it showed up and as I watched the 30-minute video I really began to realize that this was the car for me. He went over the entire car as I'd asked him to and even put it up on jack stands (it was winter in PA and he understandably didn't want to take it out on the open road) and ran it through the gears for me. After watching that video I was sold. I called him back and made an offer that he accepted. I then arranged to have it shipped from PA to AZ and a couple weeks later it arrived, as advertised. Yep, I bought it without ever seeing it in person! This took place in February/March, 2002.

Shoftly after getting the 79 W72/WS6 I decided to I sell the 1997 T/A and buy a 2002 Dodge Dakota. I kept that '79 for about a year and a half, then sold it, with just 9577 miles on it, to a collector in Missouri. My reasons for selling it were two-fold. Firstly, and most importantly, my wife had become pregnant and I just couldn't justify having so much money wrapped up in a toy, especially one that I rarely used (it would sit for 3 or 4 monts sometimes between drives). Secondly though, I also had really come to realize over the that while owning super nice low-mile survivors was great, it's also something that can weigh on you. With both the '77 Bandit and this latest '79 I'd grown to the point where I was not allowing myself to enjoy them. First and foremost I love driving these cars, and perhaps owning survivors isn't the best thing for someone who does.

Yep, believe it or not, I'd grown to really just want a good solid driver. So that's what I went out looking for. In the process I almost bought an 82k mile 1978 L78-400 T/A… red with black vinyl interior. It was a very nice car… ran great and I came so close to buying it that I actually negotiated a price, got the cashier's check and went to get it only to get cold feet at the last moment, and call off the deal. It wasn't that it was a bad car, it was a good one. It was just too much money… and even though it was a good car I couldn't' justify it in the end… so back on the hunt I went. Then in January (right before the annual Barrett-Jackson auction, a great time to shop for classic muscle) I spotted an ad for a 1977 Goldenrod Yellow T/A. The ad said it was an original owner 400 with just 75k miles. Well, this sounded like exactly what I was looking for. When I got there to look at it though it turned out to actually be a 403 car instead. It was still a very nice driver in extremely decent shape, but I had my heart set on a 400. Don't get me wrong, I have nothing against 403s, but I was a bit disappointed that it wasn't a 400 as advertised. Still though, I considered it mightily… and almost made an offer on it, but decided to wait over the weekend and really think about it. Well, by the end of the weekend I just couldn't make myself call the guy and make and offer.

Then just a day or so later, as I was perusing eBay, I saw a black on black 77 T/A in Seattle with what appeared to be a W72-400 under the hood. Not only did it look to be a W72, but it was also an automatic (I've always preferred automatic T/As, and despite the fact that I've owned 3 different W72 4-speed T/As, I always wished they were autos)! Then to top it all off, inside the car had all the gold appointments of a Special Edition (Bandit). It didn't' have T-tops though, so that meant if it was indeed an SE (and was indeed a true W72) that it was 1 of just 549 Y81 (non-T-top) SEs built in 1977. Well, naturally this got my juices really flowing. Now, don't get me wrong, this wasn't another low-mile survivor that had been pampered all its life that I would buy then not enjoy because I was afraid to drive it. No, this car had 73k miles and had seen at least one repaint (no decals) and had generally just been driven… which was exactly what I was looking for. I emailed the seller and he sent me his phone number and I called. He told me he'd gotten the car from a friend who'd recently purchased it at an estate sale and that it was a great, solid driver. Wow, an automatic W72/Y81 that I could drive… I'd have to give that some serious consideration. Buying a major item like this off of eBay isn't anything I'd ever done before, and qutie honestly, it made me really nervous, but I decided to take a chance (you only live once, right?) and place a bid. Well, bidding on eBay items is more an art than a science, so I held off my bid until the last 30 seconds of the auction and surprise, surprise I won the auction! And for about $900 less than my max bid!!!!!! The seller and I arranged for payment and pickup and in the interim I sent away to PHS (using their fax back service) to find out of it truly was a Y81/W72 car. And sure enough it was!!!

Once it arrived it I went over it carefully, checking to see if it was as advertised in the auction. I found the VIN on the 400 block, confirming that it was the correct numbers matching motor. It also had the correct carburetor on it and generally looked like unmolested under the hood and truly appeared to be a 73k mile car. The paint was newer, but not great. But as a driver it would suffice. The interior was in very good shape with the only real problems being a split seam in the driver's seat, a small tear in the passenger seat up by the seat belt guide, and the radio area in the dash which had been fairly well gutted by successive radio installs. All in all though, in very nice shape. My main concern for the car was rust though. Coming from rainy Seattle it had the potential for problems. The seller said it was clean and that the frame and floor pans were solid. Well, let's just say he was half right. Upon close inspection I discovered that the passenger side floor pan indeed had some rust, but nothing that couldn't be fixed. I also found some surface rust in the door jambs as well as a bit in the trunk along the lip that the trunk seal installs into. Armed with this information I contacted the seller and informed him that the car he sold me did indeed have some rust. The surface rust in the door jambs and the trunk I wasn't worried about, but the passenger floor did have me concerned. The seller seemed genuinely surprised by the fact that the car did have some rust and we negotiated a $500 refund to help cover the cost of repairs, which satisfied me. All in all the seller was good guy I believe who probably wasn't aware of the rust.

So now I had a Y81/W72/auto T/A that I could drive and not feel guilty about putting on excessive miles. Only problem was it didn't have any catalytic converters (I knew this when I bid on it), so the first real item of business was the exhaust. I contemplated just putting some cats into the existing dual setup the car had… but the system wasn't in all that great of shape, so I had a new dual exhaust with dual cats, an H-pipe Flowmaster 40 Series Delta Flows installed at a local exhaust shop.

So now that car sits it my garage, but because life is so busy I rarely get a chance to drive it much. So here's the kicker, I owned all these super nice low-mile cars that I had time to drive (back then) but couldn't make myself do it, and now I own a driver that I want to drive but don't have the time! Life can be ironic, eh? But here's the good news, my wife has given me the okay to get a full "street restoration" done on the car for my 40th B-day (in 2007), so hopefully by then life will slow down and I'll be able to see some road time with my Y81. I'll make some mods to the suspension, but leave it visually pretty stock looking (except for some 8" snowflakes), so it'll be more of a "restification" than a restoration. Just save and plan for now, save and plan!!
Jon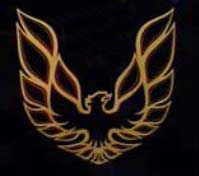 ---