Justin Hockersmith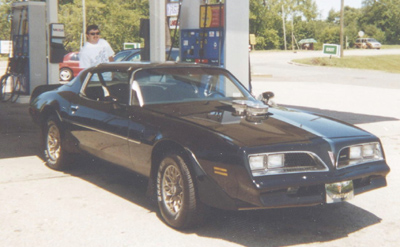 I have a wife and 2 kids and live in Olathe KS, a suburb of kc. The kids are ages 11 & 7 -
the perfect size to ride in the back seat of my TA, which they love to do! I'm a computer programmer during the week and a car nut on weekends. I enjoy NHRA on TV and at Heartland Park in Topeka KS, and NASCAR on TV and at Kansas Speedway. I also go to car shows, cruise nights, swap meets, and the local quarter mile dragstrip, KCIR. I'm a member of the National Firebird & TA Club, POCI, the TA Chapter of POCI, the local KC Arrowhead chapter of POCI, and of course the Bandit Club.
My first Trans Am:
It was a black/black '77 non-SE Trans Am with Hurst Tops, 4 speed, Rally II wheels, vinyl interior Got it in 1981 when I was 17 after watching Smokey and the Bandit countless times. I somehow managed to keep from wrecking it for three years, then totalled it in 1984 while in college. I had just had it painted and striped, paid for by working 2 jobs all summer. I've kept many parts from the car in storage since the wreck, in case I would need them for my next Trans Am. I still have the 400 motor too, which was rebuilt in 1995 and has been sitting on a motor stand since '84. Somehow, 20 years flew by with marriage, kids, and never enough time or money to finally get that next '77 Trans Am......until now!
My current Trans Am:
It's a 1977 SE Y81 TA, original 400 motor, 4 speed, Hurst T-Tops, honeycombs, black lombardy interior. I found it in Michigan through E-bay in May 2004, exactly 20 years after crashing my first one. PHS documentation confirmed that it was an S/E and I flew to Michigan, did the deal, and drove it home to Kansas City.
It is extremely solid with no rust, and has a 3 year old black paint job which looks great (no pinstripes or decals though). While the interior and exterior are in nearly perfect condition, the motor and engine compartment have been modified quite a bit for racing. Despite that, the car has the options I wanted and enough other good qualities to overlook the modifications, which can be converted back to stock fairly easily. Curiously, the PHS documentation shows it as a Y81 Special Edition (non T-Top) car. But it's got the correct Hurst T-Tops with black trim and the "Hurst Hatch" stamp in the glass. According to '77 Trans Am production numbers that I've seen, only around 350 Y81's were made with 4 speed, so this car seems to be a rare find. I'm curious to know whether having T-Tops makes it more or less rare. It is an original non-A/C car, which isn't suprising since it was originally sold through a Minnesota dealership. There is no rear window defroster, which is suprising for a car in a cold-weather area.
I plan to have fun with the car as it is for a couple years while I decide whether to change any of the modifications back to stock. The dual carbs with chrome air cleaners sticking through the hood were not what I was looking for when I bought the car, but they are real head-turners when cruising the streets, and are fun for now!
More info is included with the photos on my gallery page.
Justin Hockersmith
Olathe KS (Kansas City)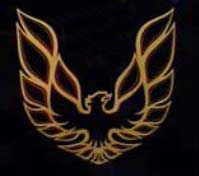 ---