Kevin O'Hare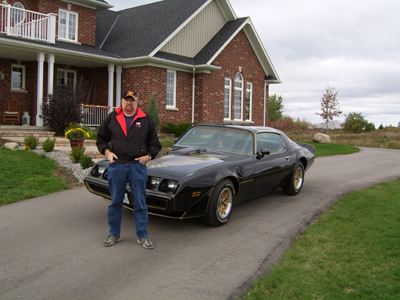 My name is Kevin O'Hare and I live in Whitby Ontario Canada ..
In 1979 when I was 24 , I had purchased a brand new Formula Firebird which I kept for about 12 years reluctantly selling it after my daughter was born. A year and a half ago, I had decided to buy myself a toy and decided on a 1979 Trans Am as the older muscle cars were getting out of reach price wise. A good friend of mine had just finished restoring a 1969 AMX and was looking for a new project car to work on. He called me up one day and asked if I was interested in buying a 1979 Trans Am he had just purchased for $300.00. I said you fix it up and I'll buy it for whatever you want for it. He sent away for information package from Pontiac Historical and the car turned out to be a 1979 Trans Am SE. The guy he bought it from was going to send it to the wreckers until my bud bought it. A couple of quarter panels and right front floor pan were installed and door skins straightened and smoothed out for the black paint job.
The motor is a 403 ci, with the only work done to being a carb rebuild and timing chain and gears. A new carpet was installed in side the car , repro door panels and seat covers installed and the interior was done. One item I need to find for the interior is the gold bird button for the gear shift knob The original disappeared and I have a red one to use for the time being. Otherwise the car is all original . The only thing not working is the cruise control for which I need some parts. Future plans are to install headers, true dual exhaust , and maybe an aluminum intake if funds allow.
This car is not a show car and it is not perfect .It is and will always be a "driver" , to be driven and enjoyed and I enjoy taking it to car shows and cruise-ins whenever I can. . There's a cruise in just about every night of the week during the summer months, where I live so I get out to at least a couple of them whenever I can.
Kevin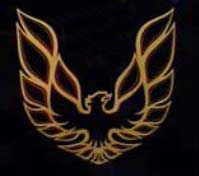 ---