Letters, Articles, and Stories
These are letters from members and non members that just want to say thank you or whatever! Some are from people or companies looking for a Bandit Trans Am for a photo shoot, or movie. We won't promise to publish every letter written to the club, but if it's interesting, helpful, funny, or something like that, it might pop up! There are also stories and articles from magazines and other publications. Most people remember The Bandit or Knight Rider, but the Trans-Am has always been a much sought after vehicle for movies and television. It has been the star of quite a few action scenes. There are always professional photography shoots, car shows and movie studios looking to feature classic Trans-Ams. If you are looking to catch one on TV, your local cable provider or Comcast cable deals will have packages that include movie channels that play the Bandit movies often. And of course you may be able to catch the original Knight Rider series as well.
Hello George,
I just wanted to say that your site is a great way for Bandit enthusiasts to get together and marvel at one of the most popular movie cars in our culture and also to keep tabs on where all the SE's are now. I have sent in my owner info on my SE to you a few days ago and along with it contained in this email the rest of the proof that is needed to become a member of your club. In the meantime, please look over my bio and if you have any questions or comments please feel free to email me back.
Thanks and keep up the good work for all of us!
Jamie Lee

George - Thanks for putting the Pay Pal link on the Club site. I had been wanting to send you a donation for a while, recognizing that you must incur fairly significant personal costs for maintaining the website, the Club certificates, etc. That's why I had asked for your address. I really enjoy the connection with other members through the Club. I hope that the donation from me and others will help to defray your costs and to further improve the Club.
Thanks for all of your efforts.
Chris Dunnett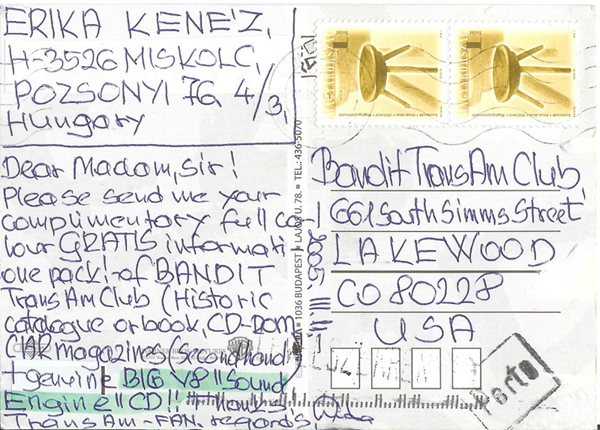 First let me thank Chris Dunett for his generous contribution towards the Bandit Trans Am Club. We've had some great support from members and businesses alike and I for one am grateful. I also wish to say welcome to all the new members here. I saw the homepage and it was quite a list! Next, the Speed Demon column was saved and with luck you'll get to read it this week. I hope you enjoy it.
Pat

Dear George,
I am glad to see that you keep us informed about the email change. I appreciate your Bandit Trans Am Club website so please keep it going. I have updated a few pictures of my car and appreciate the website so much. You truly are a class act for giving the Trans Am owners, like myself, a place to shine.
Sincerely, Michael Tyler, 1976 Bandit Owner in Willoughby, Ohio
P.S. Will you make the Dayton T/A Nationals this year? I do look forward to meeting you some day.

Hi there,
Having checked out your great site, I was wondering - as you are such big fans of the car and the movie - if you could help us out. We're producing a TV special for British TV looking at the top 30 cars in movies. The 'Smokey and The Bandit' 76/77 Trans Am SE is one of the chosen few & we're really keen to locate:
(a) Where the original cars from the movie are (I think one was recently stolen and sold off for parts in CHARLESTON, S.C.)?
(b) Really good replicas – preferably in LA or California at least, as we're planning to film there in March-ish.
(c) Any great/quirky stories surrounding the car(s) or the film that you think might be worth checking out
Many thanks in advance & I really look forward to hearing from you.
Best wishes, Mark Cohen
Producer, Channel X / BWPL Television, London, UK

April 2005 Newsletter
Page 4. Website Review
Each month we choose a website that is involved in the F-body community.

The April website review this month is

www.BanditTransAmClub.com

This website is hosted by: George Holt. The site is dedicated to the 76-81 Trans Am S/E owner. The members are all Special Edition Bandit Trans Am owners. The site has grown some and is continuing to grow each month. Some features you'll find at www.BanditTransAmClub.com are as follows…

Message Board - While most members use the well known Yahoo message area, this is still a great set up and I am sure in time will become a highly used message area for the 76-81 Trans Am S/E owner. Homepage Updates - The homepage has a section where George keeps the group up to date on club news. It is one of the small touches that keep folks coming back to the site! It is nice to see a site where the webmaster takes the time to update it, and not leave it to gather dust as so many others often do!
Member's Pages - This area is one of the best designed members areas I have seen. It allows each member a page dedicated to the member. It has a friendly format and layout. TONS of pictures for the S/E Bandit owner to browse through!
Gallery Area - More pictures of S/E Trans Ams then even old Burt would know what to do with! Nice format once again and easy to navigate. Trivia - A unique spin on a classic car can you pass the test? Also some "movie mistakes" etc a fun area to browse over some coffee! Other sections-There are some other cool areas on the site also some GREAT sound cuts, and even "Eastbound and Down" We think this is an up and coming site which will find it's niche with the Second "Gen." Bandit owner who wants to find a common meeting ground with other owners George is a great guy, and has a very good website for folks to check out.

While www.BanditTransAmClub.com is not the biggest TA site on the web, it is one deserving of recognition and one we feel TA owners should check out.

Website review score 8 out of 10. A good quality site worth checking out!

I had to share this with the group. I am so excited, I can barely type.
A few weeks ago I sent one of my Smokey and Bandit truck sets to Jerry Reed as a retirement present. Pictures of it are posted in my gallery. I received a personal, signed letter from him today. It will be framed along with the envelope. " Hello Tyler, I certainly want to thank you for the beautiful models of the bandit car and truck. The care for detail and quality of work is outstanding! It seems like you didn't miss anything. They will occupy a prominent place in my home, displayed in my trophy case. I read your letter; and I must say you sound like the, or at least one of the most ardent "Smokey and the Bandit" fans I have ever heard from. Again, thank you from me and my whole family- especially my granddaughter; who proudly placed the Snowman figure on the running board of that truck, smiled at me and said, "Right there is where papa goes". Best wishes, Jerry Reed"

Thank you George for your help and also the members of this club who have helped me in so many ways. . . East bound and down Tyler 77 TA SE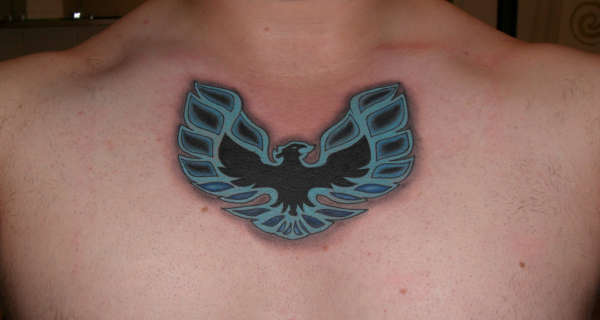 Thank you so much everyone for your help on the speaker grill. I have the flat black style. My 77 SE had just one on the drivers side. I did a major no no and cut the other hole for a speaker. I will now have two speakers: the way it should have been. I know I will get a slap on the wrist at the next car show, but who cares. I have the car to drive and have fun. If we get too caught up in the judges opinion we can loose sight of what the muscle cars are really all about.

Jeff, you are my savior. I only need one. Let me know how much and where to send the money.

By the way group. YOU GUYS (and gals) ROCK. It is so wonderful to be part of a group where we pool our resources, knowledge and parts. Everyone here has made my restoration and owner experience even better.

Sorry so sappy.

Keep Truckin,

Chuck Stovall Jr.
1977 SE 400 4-Speed w/ Hurst Hatches

I have to share this with everyone...I received a phone call on Wednesday night from an elderly lady. Her husband had just passed away and they had been members of this club previously when it was run by a different group. Crawford? may have been the name she gave me. This lady has decided to keep her 77 Bandit because her sons drive it on occasion and it had been their pride and joy. She and her husband had taken the car to many car shows and it was an experience and stage in their lives that they had truly enjoyed. (She is 67 years old) She contacted me because she had been surfing the internet looking for someone who might have some information that could lead her in the right direction regarding her problem. She came upon this site and because my phone number was there thanks to George who put out my information regarding my Dash Bezel Restoration Service for these great cars, and being a fellow Hoosier she called me (she is located close to Chicago, in the northwest part of Indiana). Her problem was that she wanted to license this car and being close to Gary, Indiana there are some strict emissions restrictions in the area. The car did not pass the test due to an exhaust leak. I told her I would research some options for her. It has been my experience in dealing with all of us who share this common interest in this great car that people are always willing to help out and offer up information. Like myself, she works at a high school here in Indiana so I can contact her. I got the impression that she is totally in the dark regarding maintenance, etc. on the car. I also think she is afraid of "Being raked over the coals" so to speak because somebody might see that here is an opportunity to rip off somebody because of their lack of knowledge. What I was going to do is research 1st: the emission standards, 2nd; price out some exhaust systems for the 77 edition that all of our restoration suppliers have, and 3rd, try and locate or identify a mechanic in that region of the state that somebody knows that would help her out. I am in the opposite corner of the state by Cincinnati or I would drive up and take care of it myself. It just struck me in our 20 minute conversation how this particular car can have such an impact of importance to people. Most would just sell it off (she says it is in mint condition aside from the exhaust), but she wants to keep it up and running due to the memory of her husband. (She also needs the chrome exhaust tips. My question to the group is this: How much would you consider a fair price for the exhaust system on these things including installation? Should she just go to Midas or Car X? What or Where do you recommend for the exhaust tips? I told her I would research all of this for her and get back with her. *My first impression was "Why don't your sons take care of it for you?" But she wants to do it all herself.....and she doesn't feel
her sons know anything about the car, nor care to I guess. I have met several great and interesting people through my ownership and interest in these cars, this one "took the cake" so to speak! Any recommendations or direction would be appreciated!
Randy Combs


Hi, I came across your web site of great images of the SMOKEY AND THE BANDIT car and think you may be able to help me. I'm working on a repackaging of the film for DVD and looking for photography of the BANDIT car. Would you be open to that, able to provide me with hi res shots and give me a reasonable cost for usage?

My phone number appears below - please call or email yours so we can discuss.

Need to know asap - your quick response is greatly appreciated.

Regards,
--
Michael Dean
Creative Director
P.O.V Entertainment Design
mdean@poventdesign.com
818.506.3866
http://www.povdesign.net/
( And here is what happened )

George Holt from the Bandit Trans Am Club sent me an email because he got a request from a production company looking for a stock photo of a 1977 Special Edition Trans Am to use on the cover. The guy sent him examples of the car that they wanted to use and it was MY 1978 Trans Am (the only Non-Special Edition Trans Am of the Club). So, George sent the guy over to me to discuss the photos to use for the cover of the new DVD release. I sent him a 5 or 6 photos of the cars that we have either had, sold, or restored and they picked one of my cars that I had restored to use on the cover. Well, on May 30th, Universal is releasing a new Special Edition DVD release of Smokey and the Bandit to commemorate the 30th Anniversary of it's release. You can reserve your copy on Amazon.com here:
http://www.amazon.com/gp/product/B000EQHXOG/002-7207453-6255239?v=glance&n=130
So it is nice knowing that one of the cars that I restored will be in millions of households all over the world. Here is a copy of the cover of the new DVD: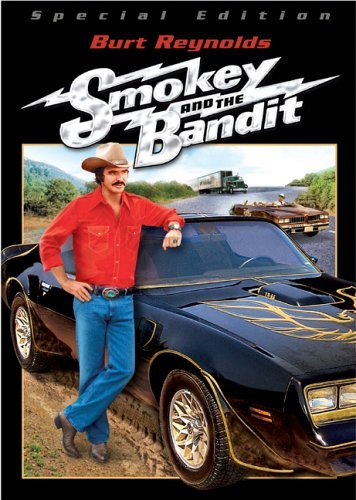 ( Way to go Brett, to bad there isn't a plug for your company on the cover. But at least you got one here! )
For more on this story, Trans Am Country has a forum that's talking about it.

A month or so ago, I got the German style font from you so that I could have it engraved on a set of custom valve covers. You asked me to send you pics of them when I finally received them. Well I have them now, and they are truly the most awesome covers I've ever seen. The pics do not even come close to doing them justice. I have them on my 1977 Trans Am SE. Attached are the pics. If any of your members would like a set of these, they can contact Mark Strelka through his website at http://www.strelkabuilt.com Mark can also customize your valve covers to damn near any specs you want, with a endless engraving possibilities.

I'm sure that you would agree that they are some of the finest valve covers ever made for a Pontiac.
( YES - WE WOULD HAVE TO AGREE )

Hi,
I'm working on a national ad campaign featuring Burt Reynolds, as "The Bandit" posed next to a Black 77 Trans Am.
I was wondering if you could help me find someone in the Los Angeles area who owns this particular model and would be interested in supplying us with the car.
We have a budget allotted for the rental of the vehicle.
The photo shoot is on Monday November 20th, so time is of the essence.
Please call or email me a reply so that I know that you have received this. Any help or advise would be greatly appreciated.
Many Thanks!!

Jamie Dean

Jamie Dean Studio
ART DIRECTOR
818.430.1152 Ph.
310.401.0396 Fx./x-tad-bigger>
( AFTER CONTACTING A FEW CLUB MEMBERS CAME THESE FOLLOW UP LETTERS FROM DAVE HALL AT: WWW.RESTOREAMUSCLECAR.COM AND DAVID HERSHEY. )
We have a car that is ready to go for your commercial if you are interested. I have attached a couple pictures for you to look at and will be uploading a bunch of new ones tonight to my website. Call me or let me know if you want me to call you.
Restore a Muscle Car LLC
4511 N. 56th St., Lincoln, NE 68504
402.730.4719 phone
209.774.4027 fax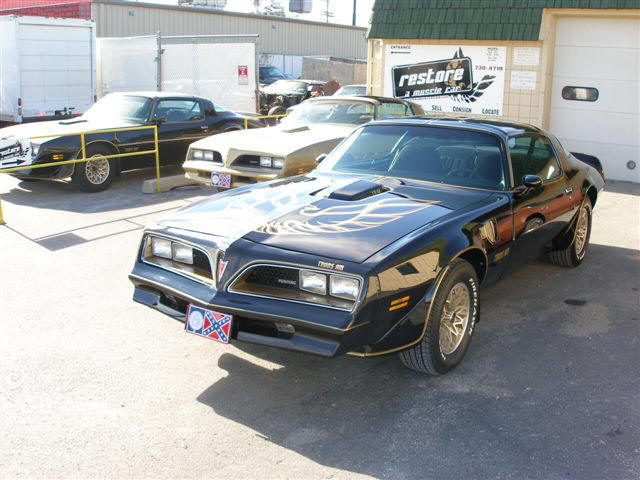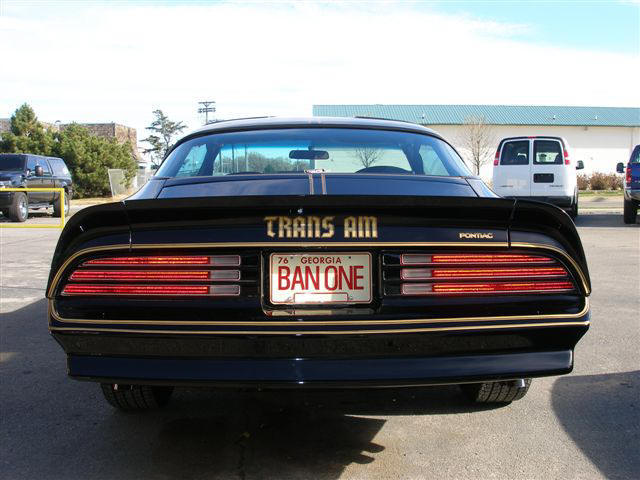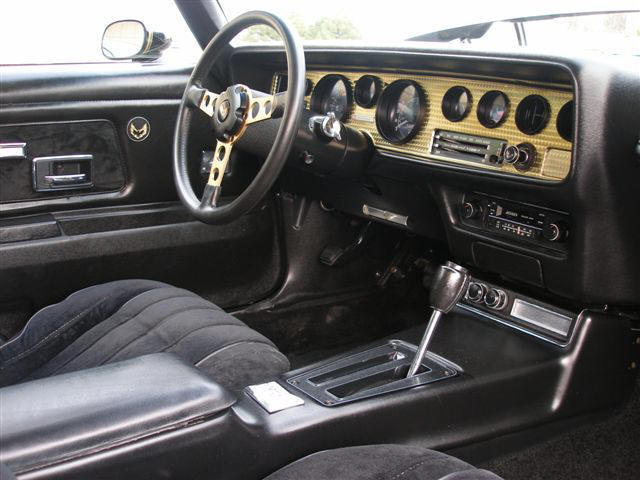 (THEN THIS LETTER FROM JAMIE)
LOOKS GREAT!!! I'm in a shoot right now so I can't call you but will a little later to discuss details. Are you in or near LA?
FYI, it's supposed to look like the car has just got chased and is splashed with a mud.

Will call you soon!!
Jamie

(THEN THIS ONE FROM DAVE HALL)
I may have a clients car in Anaheim, CA that we could possibly use also? Give me a call anytime, I am sure I can help you out either way.
The car I have is at our shop in Nebraska, but I could have it shipped their fairly quick also, if needed.
Thanks, Dave Hall
(Do you think the mud made Dave think twice about his 77 being in the shoot? LOL!!)
(THEN THIS ONE FROM DAVE HALL ABOUT DAVID HERSHEY)
David Hershey called me shortly after I talked to you. He was going to call Jamie just in case he could help out. Otherwise I have Roy's car in Anehiem and our car here that we can use.
Thanks for keeping us in mind.
(THEN THIS ONE FROM DAVE HALL AGAIN)
George, thanks a bunch for getting me the contact info on this. This is fun stuff.
I will try and get us all a poster or digital file of what ever they end up
with.

Dave
(STAY TUNED TO SEE WHAT HAPPENS NEXT! - GEORGE)

Hello,

My name is Michelle and I work for a Web site called RodsandWheels.com.
We are a car enthusiast Web site and have a weekly E-magazine. One of
this weeks magazine articles is about your car club. If you get a
chance, please check it out and tell us what you think of the article
and the site.

Thanks,

Michelle, Support Specialist
www.rodsandwheels.com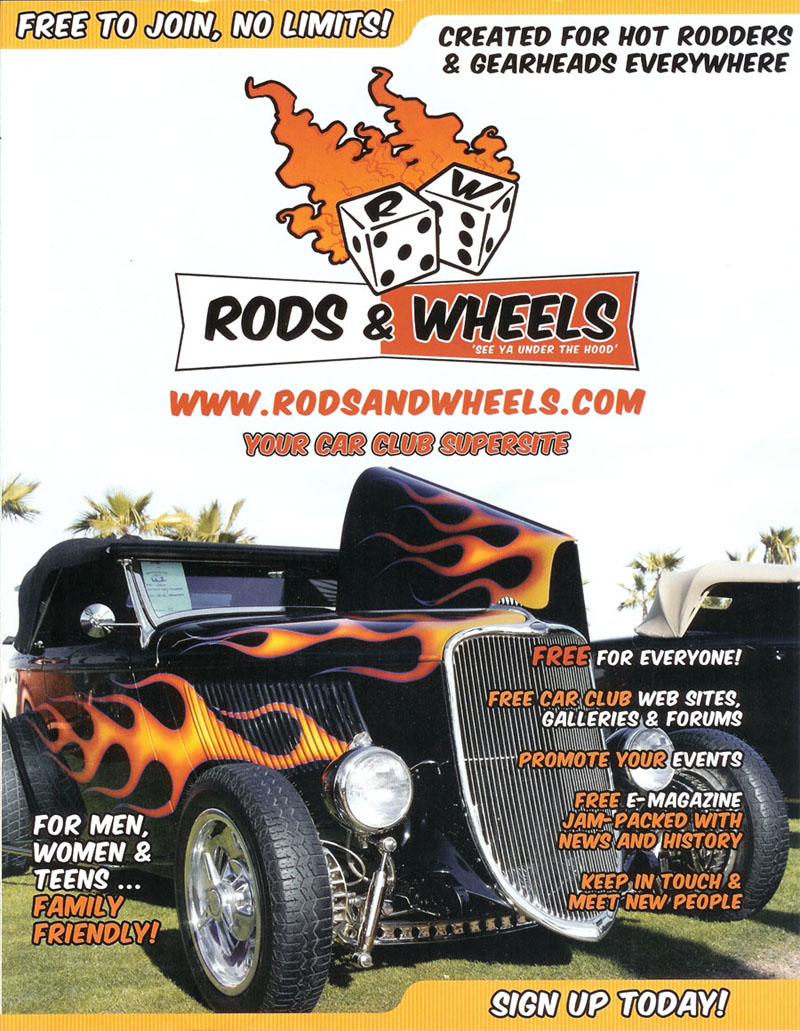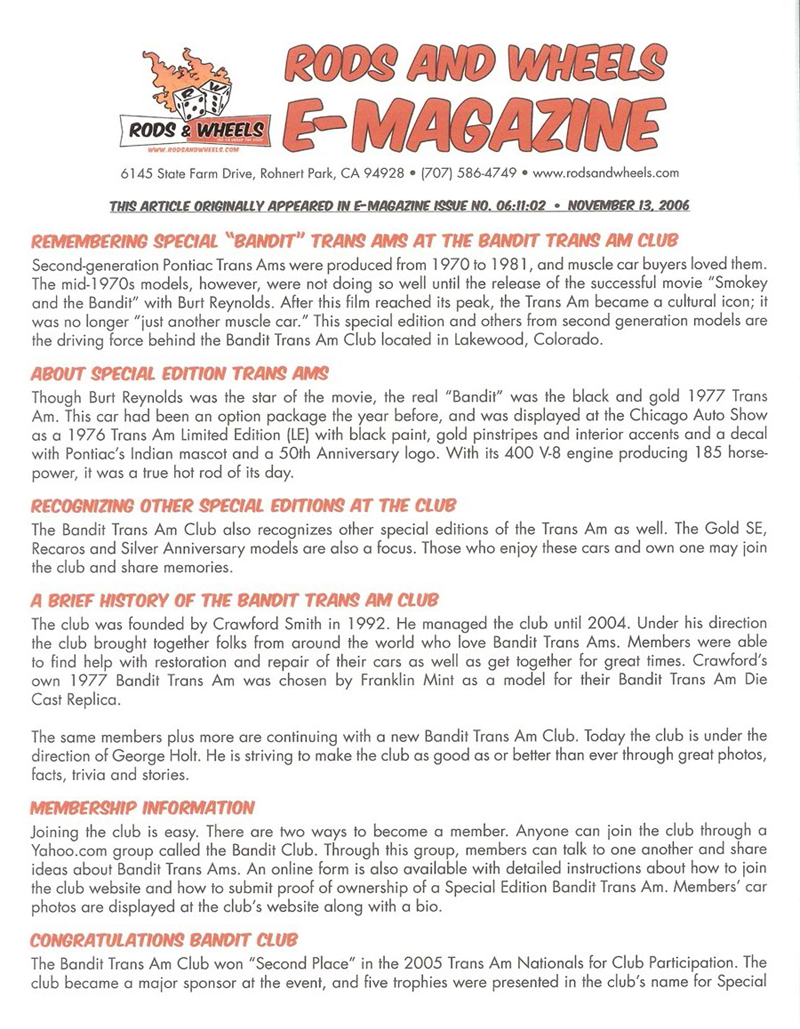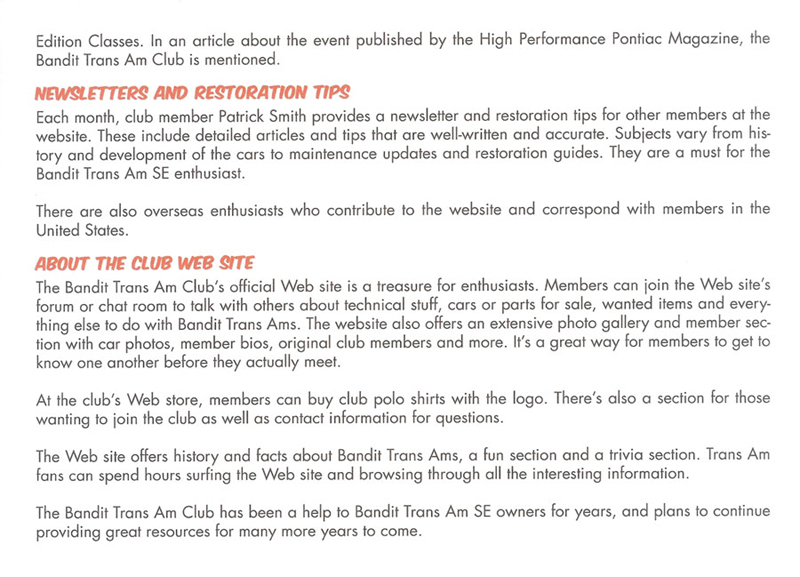 Hello George. Glad to hear your going to put those pics on the web site. Maybe others will have short stories to go along. I still have my 77 SE, but things can go slowly after a divorce and 3 boys. I do what I can when I have a lil extra cash. I was able to pick up a nos ft bumper and plan on installing that next year. I dont have any recent pic's but plan on taking some next year.. My brother traded in his 76 ta in 79 on a Ford Bronco XLT which I installed a 6" lift kit & 36" tires. (that was the fad back then). I believe the picnic was 93? I'd say there was at least 50 or 60 people there, many from quite far away. Those were all the pictures I could find.. More Later and best of luck with the web site !!!!!!!
(The picture in the album of the 76 and 77 in the garage belonged to Jim and his brother)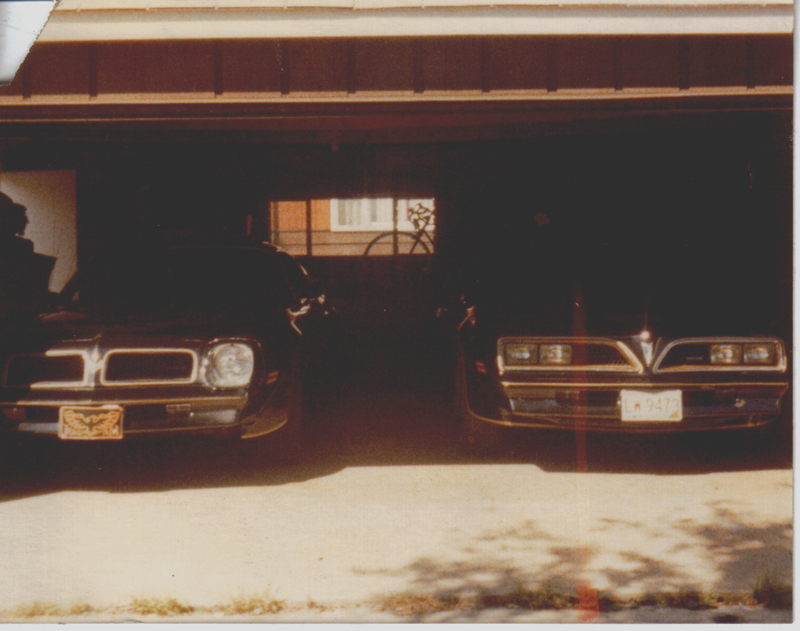 How cool is that!

Hello George,

I just wanted to send you an email and thank you for hooking me up with Dave Hall. Last Monday I flew to his shop in Nebraska and met with Dave--he is a great guy and knows his Bandits....by the way I purchased the '77 SE 4 speed car from him. Dave and his guys are doing the resto for me and I will have it in the spring. I can't wait to join the Bandit Club. While I was there I saw your '76---that is going to be a awesome car.
When will you have your car??

Anyway thanks again,

Marc Cruji

Hey guys, I'm new to the group. I publish a Magazine called Muscle Car News (MCN)
I'm looking for comments or suggestions on making it better. Always happy
to hear from fellow enthusiast. Email me your comments at diego@mcnmagazine.com
Here is a link to my website www.mcnmagazine.com
Thanks,
Diego

Greetings and salutations, or should I say 'Bandit, hey Bandit"? Anyway, love your website, found it through a blurb in CarCraft mag. I own 5 T/A's. one 79 that will be 'Banditized' before it is through, an 80 that will probably be a pro street version of the black and gold, and 89 that is being transformed into a GTA/Bandit homologation, and a few parts cars. I don't have any of the official documentation that you say I need, but I can get all of the info from the vin and check it out before I submit. Anyway, thought I would drop a line to give you kudos on the web site. I think that between my self and my three kids, we know every line in the original movie by heart, and get chided and berated by other folks when we watch it, since we each have picked out our favorite lines and when to say them.
Remember, today is the first day of the rest of your life, live it like it was your last. Don't let it pass you by.
PB