Body Work

By: Patrick Smith
Automotive Wisdom through the Ages
ďGet One before youíre too Old to understand.Ē
Sage advice given by Pontiac Motor Division about their 1968 GTO, but it applies to any classic fire breather as far as Iím concerned.
Hello all, last time I wrote the Dead Eagle had passed its first safety after many years of hibernating in a garage. Dead Eagle is a 1980 Turbo Special Edition I bought 7 years ago as a project car for a magazine. Since then, it has been almost completely restored save for the engine. I drove the Trans Am in its ďas foundĒ state for one summer, enjoying its low quality survivor condition and bemused looks from fellow cruise night devotees. Bandit TAs were cheap back then. The oily bits were sorted out for the time being and I wanted to move to the body next. In Spring of 2001, I sent it to a body shop to have a complete strip to bare metal and block sanding job done to it along with any metal repairs that were necessary.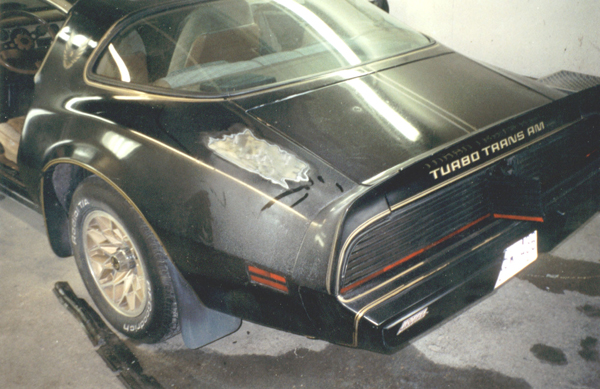 The original lacquer paint was very tired and showing distress along with the hood decal. The car was on its third set of pin stripes at least and some rust was appearing. It was time for a complete renovation. The doors were removed first and paint was stripped in a few areas to determine how many coats had been laid on and if bondo was present in suspected areas. The driver side front fender crown was bared and revealed it was original paint with no re spray. The driver side quarter panel revealed one re spray and evidence of filler low near the wheel well. The roof area showed only one layer of factory black paint. The hood revealed one layer only. So far we had a partial repaint on the driver side quarter panel.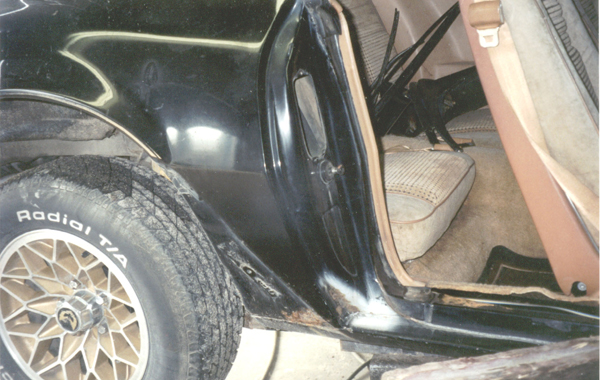 The spoiler spats and front nose were removed. The metal under the front fender spoilers was dirty but rust free. The front bumper rebar was solid and dent free. The metal under the rear spoilers revealed rusty spots as suspected. Trans Ams are notorious for rust here, as the spoilers are plastic while the quarters are metal. Trapped debris starts rust right away. Some metal work has to be done on both sides. In addition, we found bondo in the lowest part of the driver side quarter panel and bent metal underneath it. Oddly enough no rust. Looks like someone didnít bother taking the time to pull out the panel and repair it properly. The last problem area was the trunk lid. The lip beneath the spoiler was pretty far gone. I ordered a replacement trunk lid for it.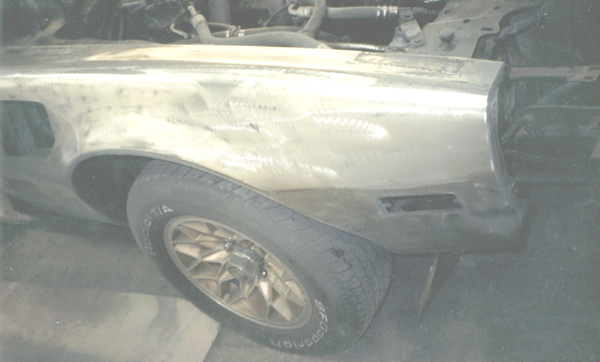 The car was stripped to bare metal, some pinholes repaired with metal and the new sheet metal added to the spoiler areas. The dinged up metal on the driver side was pulled, dollied, tapped and sanded smooth as possible. It still isnít perfect but so much better than before. Some final tapping will finish it off before a coat of body putty cleans it up. We noted the side marker lamp hadnít even been removed for the bondo operation way back then. This will change since we ordered a complete set of Soff Seal gaskets to redo the entire car from door locks to T Tops. Once taken to bare metal and repaired the arduous task of color sanding follows. This took another week to get it just right for priming and painting. Weíll continue that saga next time. This is why body shops are reluctant to give quotes on repaint for older cars. Itís a bit like archeology. All the sins of the carís past come to light when you take it to bare metal. For instance, I heard a rumor from the second owner that my car had been stolen when it was four years old and taken for a joy ride. The episode allegedly ended with a shunt into a strawberry field after crashing a fence.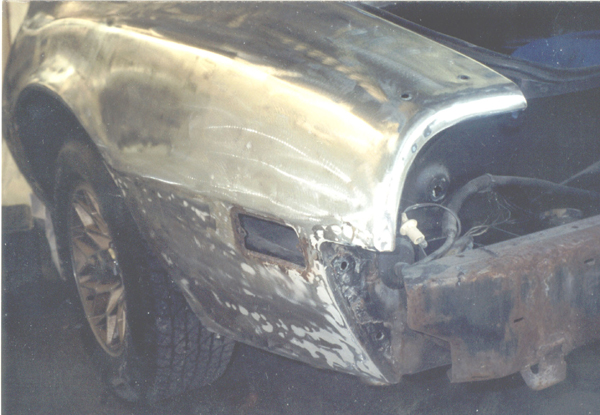 Well our tear down didnít reveal any front end damage. The hood, front nose, bumper rebar were original and free of repair. Only the windshield had been changed. Since we live near a quarry, this isnít a surprise. We can safely consider that story bogus. Mind you, he was trying to buy it back from me at the time. The rear quarter panel ding is a mystery however. Some one backing into a tree stump while bombed perhaps? Strange thing that dent. Itís identical to the one that appeared in a friendís 1981 SE. Maybe itís a little known option? Perhaps RPO OOPS99 (alcohol-driveway mishap package) random dent & filler set simulating minor dent incurred while fishtailing into mailbox. Hey, maybe itís a Bandit stripe. Weíll see you next time.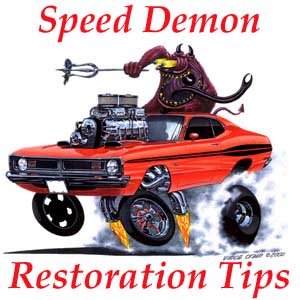 ---