"I went to see "Smokey and the Bandit" when I was 10 years old, my mother took me. It was the 1st movie I ever saw in a theater, and I'll never foget the ride home after the movie. After that day in 1977 I always dreamed of having the car I had seen when I was a kid. 18 years later in 1995 I found it, and the rest is history. "
"I'm a big fan on originality, my t/a is completely stock except for the flow master, and the tires (although I have the originals stored away) "
"Above and below is Burt and me in Tampa over the summer. I was lucky enough to be invited to to an event hosted by Turner Classic of a screening of Smokey and the Bandit... and Burt was going to be there for a Q&A. They invited me up with the car... I was lucky enough to have him stand by the car, sign it and have a few minutes of one on one time talking to him.... Once in a life time !!"

"Burt was very kind... nice.... we talked about the bandit run.... he was flattered that a bunch of trans am fans get together and have fun.. he was really touched by it all.... he also said he was so mad that when we all came down to Jupiter and he was out of town working that he missed us... and really wants us to come back... he promised to clear his schedule and be there.... "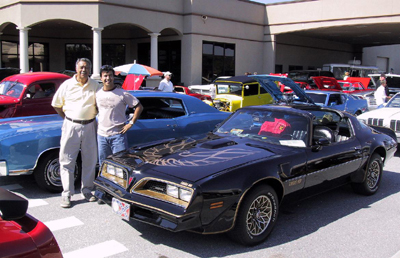 Above is a picture of Ric and his father. Ric also has a Trans Am website called; www.floridatransam.com
We got this email from Ric on 08-08-2007
"Just wanted to let you know I went on the bandit run this year and had a blast. I 1st found out about it when I joined up and surfing your great site. I made a ton of new t/a fans and now I'm giving back a little to the Run. I made up this web site with the pictures and videos from the Bandit Run. Just thought you might want to have a look. I also put your link up there. Again... THANKS !!"