"The Falcon and the Sausage Creature"
Speed Demon USA April 2005
By: Patrick Smith

Automotive Wisdom Through the Ages:
"Making the Falcon a sporty car is like putting falsies on Grandma."
This jewel was uttered by Dick Place, a Ford product planning man while Lee Iaccoca was heading up a meeting to create the 1965 Ford Mustang. The 2005 Mustang is a rolling tribute to the early generation 'stangs with a '69 grille, a '65 fastback body and '60s inspired interior. In fact, Ford just released a memo announcing the increase of Mustang production just to meet demand, not to mention the debut of the 2005 convertible. We'll be testing one for you in an upcoming column. Say Goodnight, Dick!
A Muscle Car Memoir: Song of the Sausage Creature
When I was young, I lived in a hamlet in the countryside. It was a resort town on the St. Lawrence Seaway so we had plenty of boating, fishing, farming to do. In the wintertime, skidoos and ice fishing were the big draws and sometimes the skidoo drivers would make a mistake and plow through a fishing hut with someone inside. Those accidents were quite rare. In the summer and fall, though, another kind of accident was way too common. Car crashes from racing or just plain stupid driving was a weekly event.
Our hamlet didn't possess many muscle cars. They were too new and expensive at the time. You had to go to Cornwall or Montreal to see a lot of the late model iron. We did have a number of straight roads that were well lit and a few of them with challenging curves. We also had an independent used car dealer situated right across from the Ontario Provincial Police detachment. For a few dollars down and the rest "when they catch you," one could buy a high mileage 64 Galaxie 500 with a 390 four-speed and copious quantities of bondo of rust hidden under a spray of "resale red" paint. If you had more money to play with, you might pick something off the front row, a 1973 Duster 340 in gold with black stripes. The engine would be smoking and the clutch burned out, but it looked great and could burn out 1 tire at will. (You realized that Sure Grip was optional when you signed that slip?)
I loved checking out the used cars with the bright overhead lights, aluminum foil banners and shoe polished price tags. One spring night, I saw three of the neatest cars there. A 1969 Dodge Polara hardtop with fancy rocker trim and hubcaps, painted a lurid yellow with black bucket seats. She was rusty as hell in the rear quarters but it packed a 440 four barrel and 727 automatic. There was a '59 Parisienne ragtop in Ermine white with red vinyl interior and white top. Parisiennes were basically Canadian versions of the Bonneville using 283 engines, different trim and interior. It was lovely, but very high mileage and generally tired looking.
The big surprise was the Chevelle SS 454 coupe; dark metallic green with white stripes and black interior. Of course it was an M-22 four speed car. They wanted $2590 for it which sounds great now but was very rich for 1976. Dad complained whenever he filled the tank of his Cadillac Deville as it cost a whole ten dollars for Gulf High Test! Everything is relative. Anyway, those three cars sold and I saw the Chevelle in action at night before long, horsing around getting in street races. No one had a ride capable of beating it so the owner went elsewhere to get his kicks. One April morning, I walked to school and passing the gas station, I saw a pulverised 1966 Olds 442 hardtop. The windshield frame was level with the doors, no glass and dried blood which contrasted sharply with the blue interior. I'd seen the car a few times but didn't know who owned it. I learned at school that one of my friend's older brothers had perished in the wreck. He'd been racing against the Chevelle and hit a bridge trying to overtake the SS 454. Racing in April on slick roads. I guess the Sausage Creature overtook that poor guy. The Sausage Creature is what I call any act of stupidity that mankind makes that can be explained by cabin fever. It is man's dumb, wild side as documented by Dr. Hunter S Thompson (R.I.P). I'm sure all of you have seen the Sausage Creature strike. All of us whisper, " there but for the grace of God, go I."
Rather than get preachy on you, I brought up this anecdote to remind us that as much as we get enthusiastic about our cars, they are machines. Steel, glass,untold amounts of vinyl and volatile organic compounds that will do whatever you tell that gas pedal to do regardless of the danger. Also, I wanted to whine about how cheap those cars seem now. Two thousand five hundred and ninety dollars for a big block 454? Sign me up for that deal! Today, that money will fix your Honda Civic beater that got front ended at Wal-Mart by the drunk guy backing up his Skoda. See you next month.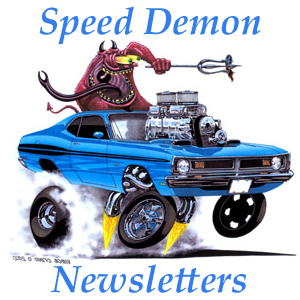 ---