"We Flog the 2003 Maurader"
Full size Muscle: 2003 Mercury Marauder June 2004
By: Patrick Smith

When Mercury reissued the Marauder nameplate in late 2002, auto nuts drooled in anticipation. The original machine was a mid-Ď63 hardtop addition to the Mercury Monterey series with a slant back roof. This allowed Mercury to race the fastback roof in NASCAR. Back then the base engine was a 427 V8 and the Super Marauder was a dual quad 427 with 11.5:1 compression ratio. You got a four speed manual shifter or a Merc-O-Matic.
Last summer I tested a 2003 Marauder borrowed from Ford Canadaís press pool. I had it for a week for evaluation purposes and what follows is the report on that particular car. Todayís Marauder is based on the full size Mercury Grand Marquis body with a slew of special modifications and upgrades. The body comes either in black or dark blue paint. The powerplant is a 4.6 liter 32 valve dual overhead cam V8 engine rated for 302 horses @ 5,750 rpm. Out back you have true dual stainless steel exhausts with impressive three-inch chromed Meg tubes under the rear bumper.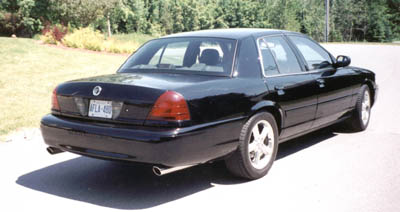 The transmission is a heavy-duty spec automatic with 4th gear overdrive. You also get a 3.55 limited slip axle and polished forged aluminum mags with the Mercury Messenger icon. The suspension system is modified with Tokico shocks and stabilizer bar while out back you have a 4 bar system with Watts linkage, rear stabilizer bar and load leveling air springs. Itís a performance sedan with all that hardware. Step inside and you have a luxury car.
My ride had charcoal leather bucket seats with lumbar supports and complete power adjustments. There was a floor shifter, console, AM/FM six CD changer, overhead console, leather-wrapped steering wheel with fingertip cruise, a/c and audio controls. The gauges glowed beautifully at night with ďMarauderĒ and the needles in dark red.
I picked up my test car during the worst heat-wave of the summer and employed the a/c within seconds of startup. The raunchy exhaust note was perfectly tuned for city driving and traffic light launches. Moving the car out made me notice the taut handling. Most performance cars use very high rate springs and stiff hardware. This creates the compromise of a bumpy, jarring ride until you load up the car with people or start working it hard in curves. The 1968-1970 Road runners were notorious in this regard. Fill it with gas, and add two passengers out back and a Roadrunner feels great. On your own, they were stiff crates. The Marauderís ride is excellent. Itís firm without being harsh.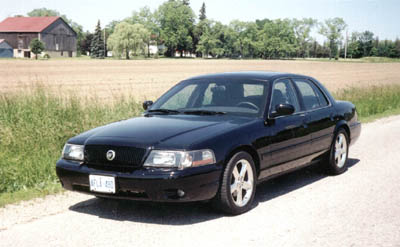 This Merc is Fordís large bore cannon designed for long-range runs. You canít maximize the hot mill if youíre uncomfortable while driving. The bucket seats are firm and offer decent support, the gas and brake pedals are adjusted by a switch on the dash, and thereís tilt steering. The shifter is well positioned with overdrive lockout resting right where your thumb curls on the leather wrapped handle. The console has two Autometer gauges for voltmeter and oil pressure situated upwards and NASCAR style with the needles upright when in the normal range. The dash offers you tach, speedo, temperature and gas gauges.
The stereo is by Alpine with very clean sound especially with digitally remastered recordings. I never tired of playing ďExile on Main StreetĒ with this sound system. This was almost loaded, missing only the moonroof. Iím six feet tall and there was lots of headroom. So, how does the Marauder go?
The engine is peppy at low revs, is stirring at 3,000 and comes on like King Hell from 4,000 rpm and up. The square bore avoids the stressed evident in stroke mills and sidesteps the mediocre torque ability of undersquared engines. This four-door luxobomb goes from 0-100 in just a hair under seven seconds. The overdrive gear was tacked on to improve gas mileage as this engine can haul butt in every given gear.
The Marauder uses 57mm throttle bores mated to low restriction lower and upper intake manifolds. The cams use 32 valves so the car is built for high speed. The engine starts enjoying itself just above the legal speed limit. Most of the testing was done on major highways under adverse conditions. The usual routine was to head out at noon, travel several miles through city blocks in 95 degree F heat with the a/c on max to see how the cooling system handled. No worries, the temp gauge never went past the quarter mark. Once I hit a freeway, I kept the pressure on for ten miles stretches. The car was a superb handler at speed and acted like a go kart. It didnít even break a sweat. This is remarkable considering that large sections of 401 and 427 highway had buckled upwards from the heat. It was the first time in years that I saw late model cars pulled over with fried radiators.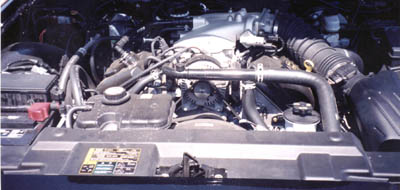 For tighter handling tests, I used Terra Cotta and Belfountain, a series of twisting roads and hairpin curves on top of the gorgeous Niagara Escarpment. The front rails are hydroformed steel, stronger and lighter than traditional chassis grade metal. The secondary crossmember is cast aluminum allowing more precise alignment surfaces for items such as engine mounts, rack and pinion and control arms than you would get using steel members. Unlike a Grand Marquis LS, the Marauder didnít sway, understeer was almost nonexistent, traction was excellent and the steering was accurate. Iíd prefer some increased road feel through the rack, but as is you have a good setup for enthusiast and serious driving chores.
The Marauder had no direct competition at the time of testing. Pontiac didnít even have a Bonneville GXP with Northstar engine and Chryslerís 300 Hemi C didnít debut until this spring. Even so, the Marauder holds up well against robust competition. Iíd add a few trim items to emulate a vintage 1963 or 64 Marauder. Hard shell bucket seats would look great. Iíd also offer a wide range of colors. Otherwise, it is a fine example of full size muscle car.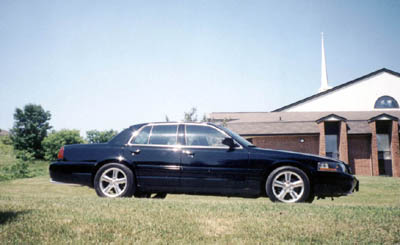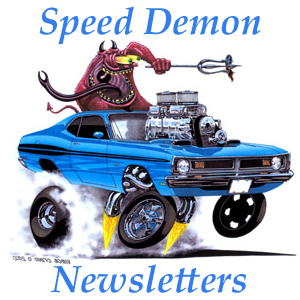 ---