1980 SE Maintenance Updates
Speed Demon USA August 2004
By: Patrick Smith

Genuine Automotive Wisdom through the Ages
ďOne thing we learned was that nobody wants a car labeled cheap,Ē said
Studebaker executive Don Kidder, discussing the failure of the 1958 Scotsman, a stripped down Studebaker marketed during the 1958 recession. Stick around as we present a pearl of wisdom from various auto industry execs from the golden age of the automobile.
Ford Canada Celebrates 100 Years of Manufacture in Oakville
It was August 17, 1904, when Henry Ford and Canadian entrepreneur Gordon MacGregor signed a deal launching what became known as Ford Motor Company of Canada Limited, at a wagon factory in what is now Windsor, Ontario. On Tuesday, August 17, 2004, Ford of Canada headquarters celebrate their 100th anniversary with a media presentation by top executives, followed by a time capsule containing artifacts from the remarkable century sealed for posterity. A luncheon will follow.
Trans Am Updates:
This has been a busy month for Dead Eagle and myself. I launched PHS Collector Car Appraisals and Build Sheet Decoding in June. This is a continuation of my earlier Dr. Decoder sideline I started in 2001. My 1980 SE Turbo TA had a new set of tires installed front and back and then the driverís side exhaust manifold was replaced after a catastrophic failure during a routine drive.
Changing the tires was a straightforward affair governed by the untimely sidewall failure of the two front tires. There was no accident or even a scary moment. I was cleaning my rims with some excellent rim cleaner called Blue Magicģ when I saw stress cracks on the sidewalls. The tread was brand new, over 95% at least. No thumping or squirming. I didnít like those cracks. Once at the shop, my fears were confirmed. Just bending the sidewalls exposed the belt package. These tires would have failed soon. I used brand new Good Year rubber made for Canadian Tire under the Predator GTS white letter series name. These are nice P245 60 R 15 radials and they returned my bottom end torque.
Not long afterwards, the driverís side exhaust manifold cracked under load. I drove it this way for 2 weeks while searching for a replacement. What started as a 3/8-inch hole became a massive 3-inch crater that made my car sound like a diesel garbage truck with an engine being lugged in low gear! I didnít get a ticket oddly enough. Thanks to Joe Baysí advice, I was able to score a replacement manifold at a wrecker. The passenger side will be scary if it ever fails; thatís got the turbo piping.
Changing a 24-year-old exhaust isnít any joy. Broken studs were the norm as was busting the ears off the old manifold. That didnít worry me when I saw how bad it was, (I have a new can of furnace welding cement if anyone needs one.) The real pain was the last stud into the cylinder head. Removing it meant lifting the engine block upwards for clearance and using an easy-out tool. Then bolting up the engine mounts, oil, temp gauges, vacuum ports, rad hoses and so on until the job was done. The good news is the repairís a success! Iíd like to thank Ray Russiani and the crew at Halton Tire Centre for doing this thankless job.
Here are a few things I learned when doing the parts chasing for this job. Although the parts interchangeability of the exhaust manifolds on Pontiac V8s appears to be widespread, there are a few caveats. On the surface it appears that all you need to know is whether you have D-port or O-port heads. While itís true that you can bolt a 455 D port exhaust manifold onto a 301 head, there are two major problems. 1)The center port on the 301 has a third stud while the 455 does not. 2) The exhaust runner ledge is wider and will interfere with the upper control arm. Another factor that may cause trouble is that the 455 is a high deck block while 350, 301s are low deck blocks. You may have a clearance problem with the turn down and exhaust studs. This is a shame because the 455 casting has a lot of meat compared to the 301 casting, which is infamous for blowing out. Until next month, happy driving.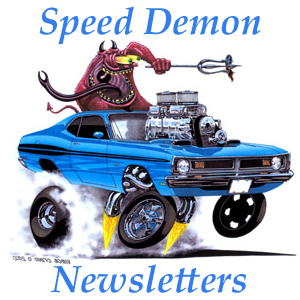 ---