Oil Crisis...What Oil Crisis!
Speed Demon September 2004
By: Patrick Smith

Genuine Automotive Wisdom through the Ages
"What oil crisis? If we just melted all those James Last and Guy Lombardo records, our national reserves would go up ten years."
An executive at a jobber convention uttered this jewel last summer.
NEWS- Chrysler Canada is in the final stages of prepping their Brampton, Ontario, assembly plant to make another new vehicle alongside the Hemi C and Magnum. You've heard of this one before, remember the Dodge Charger? I have it from a source within that pilot car experiments are in progress. There's talk of the new hemi also being punched out for a bigger bore. Hmmm, can you spell 426?
Ford has released their 2005 Mustang pricing for Canada and the cars are scheduled to appear at dealerships in late October, or early November. According to Ford USA, the GT V8 and Mustang V6 will both be available concurrently with a GT offering over 300 horses for the first time in 35 years. Watch Speed Demon for a road test this fall.
2005 Ford Focus ZXW SES Wagon-First Test!
Late in July, I tested the new restyled Ford Focus station wagon. The Focus name has been hot on the lips of the tuner crowd. They love the high revving 2.0-liter Zetec engine. The Focus looks pretty nice in base trim and in SES, it's dressed to kill. This year Ford introduces the Duratec engine series in 2.0 and 2.4-liter versions. Both are DOHC motors, both are making more horsepower than last year's models. In fact, the station wagon's mill is making more horsepower than last year's ZX series.
My test ride was finished in French Blue metallic with dark flint cloth interior. It was loaded with power moonroof, luggage rack, a/c, alloy mags, 6-disc CD and MP3 player along with the usual creature comforts like power windows. There's even an optional alarm system and a winter package. This included heated front seats, heated power mirrors, four wheel anti-lock brakes and all speed traction control.
I took delivery on a warm sunny afternoon and started piling on some miles. This car was virtually brand new. The first things tested were the stereo system, a/c and the power moonroof. The stereo system worked well as did the moonroof. You can roll it all the way back for sunlight or just angle the rear to suck out fumes.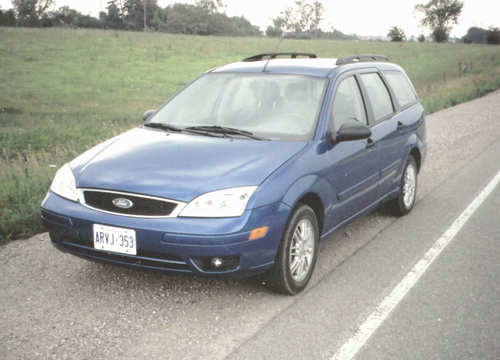 The next major impression I gather with every vehicle is engine performance. Is it a capable motor flexible enough to haul loads, commute at modern speeds and pull you through city traffic without hunting for a gear? For this test, I made it haul some gear around.
Driving the Focus SES in city traffic was pleasant enough. The 2.0-liter pulls hard in low gear giving you ample power. The automatic four speed has decent shift points although second gear takes awhile when you accelerate hard. This mill will pull up to six grand under hard throttle. I use the overdrive lockout and this brings the shifts closer together. After testing this car in the twists and turns of Terra Cotta and Belfountain, I was impressed with the engine torque.
In first gear I can move from standstill up a steep grade known to force automatic gearboxes to cough up second gear before peaking. With the Focus, I took it in 1st gear. The last engine I recall doing that stunt was a Dodge Aspen with a 318 V8 from the woolly mammoth era. Obviously Focus's 133 lbs. feet of torque were adequate. Top horsepower is 136 at 6,000 rpm.
Another plus was the quality of the interior. The fit and finish of the panels are every bit as good as the Pacific Rim folks. The dashboard has a nice set of analog style gages with trendy brushed aluminum gage bezel and carbon fiber patterned radio and HVAC display. The seat cloth was comfortable and well padded to make driving long hours enjoyable.
I took the Focus antique hunting in the wilds of Flamborough Downs, Clappison's Corners to the Circle M flea market. This meant a long ride uphill. On the way home I was carrying a huge pile of 60's albums scored at the flea market. Later in the week, a cache of 300 19th century rare books filled up the back. The car hauled this stuff around without complaint. I loved the weatherproof hatch button hidden above the licence plate frame. It saved me time unloading the car. The rear seats fold down to provide six feet of storage. I found the seating to be comfortable even after a long trip with no sore spots. The rear seats are comfortable and you have good legroom even with a tall driver up front. Commuting for daily drivers should be pleasant.
Attention to design detail shows up in little things. The defrosting duct for the windshield is one example. It is one continuous line following the curve of the windshield. The windshield clears fast starting from the bottom up, where you need it. No more trying to drive scrunched under the wiper blades. The driver's door can hold six CDs in a pinch and the player itself can hold six. There are 2 coffee cup holders in the console, one doubling as an ashtray with a flip up lid.
The ride is firm without being jarring. The handling is very good for a station wagon. It pretty much acts like its sports coupe cousin when empty and under load you can sense more heft in fore and aft movements but no deterioration in handling. The P195/60 R15 tires and multi spoke alloy rims helped out.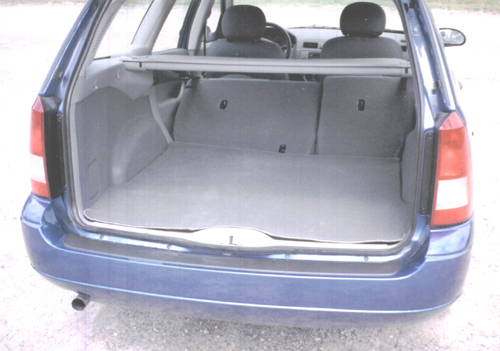 The biggest surprise was an unplanned traction control and ABS system workout. After taking pics of the car roadside, I hopped in and returned home. The sky in front of me was light gray until it reached a curve. There was a silver ball of mist on the road. Puzzled, I put on the fog lights and slowed down. I still couldn't tell what it was until I entered the corner. It was rain, a lot of rain. You've heard of ball lightning, well this was the thundercloud equivalent. A tsunami had pelted the entire corner. I didn't slam on the brakes for fear of aquaplaning. That's when the tires ride on top of water and you wipe out. The traction control lamp flashed like a pinball machine in tilt mode. The car kept moving, stable as can be. I pulled through the other side in 10 seconds. I didn't even have time to put on the wipers. I'm sure that without ABS and traction control, an accident would've happened.
The Focus SES wagon has lots going for it. It has chic urban styling, a user-friendly interior with understated class, powerful, environmentally friendly engines and quality that won't disappear when the warranty has expired. If you're in the market for a Honda Civic, Toyota or Mazda hatch, take a look at the Focus before you decide.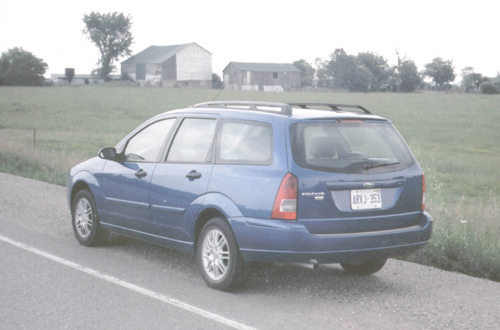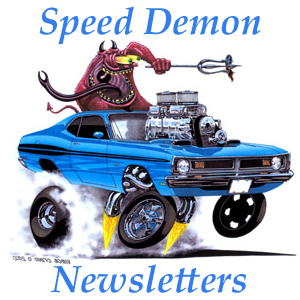 ---