Get the damned thing off immediately!
Speed Demon USA December 2005
By: Patrick Smith

Automotive Wisdom Through the Ages
"Porter, the Trans Am with an Indian blanket on the hood. I hate it, looks like a Macy's truck. Get the damned thing off immediately!"-Bill Mitchell's phone message to Bill Porter, about the original screaming eagle decal that was placed on a 1970 Trans Am in GM's paint shop.
Bill softened up in 1973 when John Schinella tooled up a black one with gold and black hood bird just for Mitchell and he agreed to make the decal an option.
TRANS AMS AT RM AUCTION
With 385 cars for sale in one weekend, things get hairy. The mix included everything from a 1939 Rolls Royce Wraith to a custom 2004 Harley Davidson deuce chopper which sold for $18,297 Canadian. The sale rate hovered at the 50% mark which is pretty good for this venue located at the International Centre in Mississauga, Ontario. Having a strong dollar may have curbed some stateside activity, but the home market was fair. We'll focus on Trans Ams with a nod towards some other notable sales.
This time we saw six TA's go under the gavel. They ranged from restored showroom stockers to custom street machines. Star of the catalog was a 1969 Trans Am coupe with Ram Air III 400, console delete with blue interior, woodgrain steering wheel, rally II mags. It was restored and had only 10 miles on the odometer. Bidding was strong and it climbed to $121,000 before buyers ran out of steam. The car was a no sale as the reserve was higher. A good showing, but this barely cracked into the $100,000 in US dollars. Seller was wise to hold on with just 697 made.
The next interesting car was a 1977 TA finished in white with blue custom cloth interior. It was a Pontiac 400 with automatic, Hurst hatches, tilt steering, a/c, cruise control, power windows, power trunk, 8 track player and Rally II mags. No dash rust and the body looked decent as did the trunk floor. There was some putty behind the rear fender spats and it had a mediocre paint finish. This was part of the Tony Darrigo Estate sale and it had no reserve. When the dust settled, it sold for $7,383 CDN.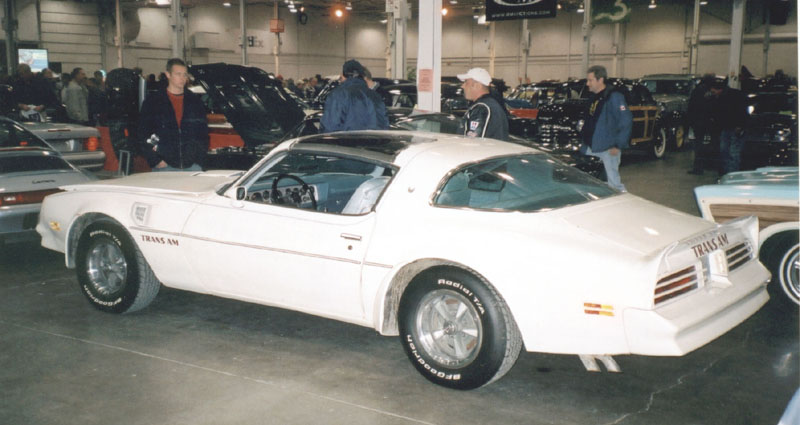 A 1979 tenth anniversary TA was there and it looked great. The hard to find stuff was in good shape like the silver leather seats and embroidered door and seat panels. Repros are available of these parts but the originals are always preferred by collectors. The decals and paint were good and the engine was the 403 Olds with automatic. It was for sale when I took the picture and according to the sales results, the high bid was $9,000. Seller rightly declined as the car is closer to the $14,000 mark.
My personal favorite of the show is this light blue irridescent 1980 coupe. It sported the base 4.9 V8, a/c delete and blue hobnail cloth in great condition including the dash. Car was solid looking and came off as the best buy of the second generation bunch offered. Camaros had this colour as well and both models looked sensational in it. Bidding was healthy and it sold for $8,881. A little work on the details would make this a great street machine because the base 301 can be hopped up easier than a turbo 4.9.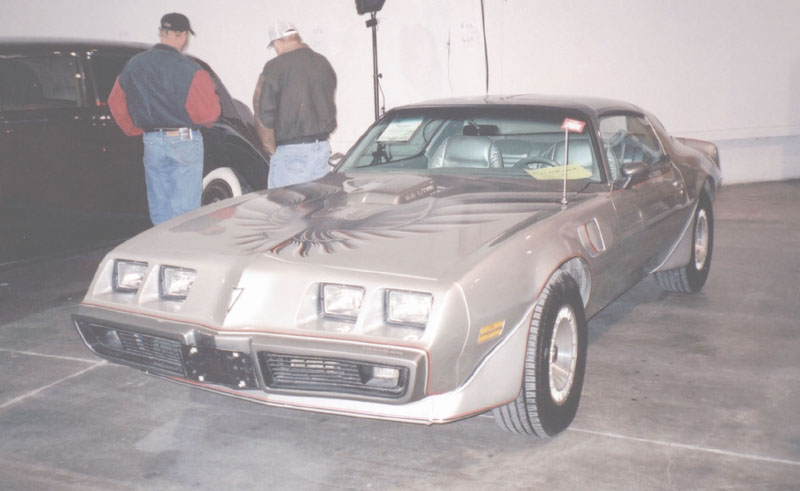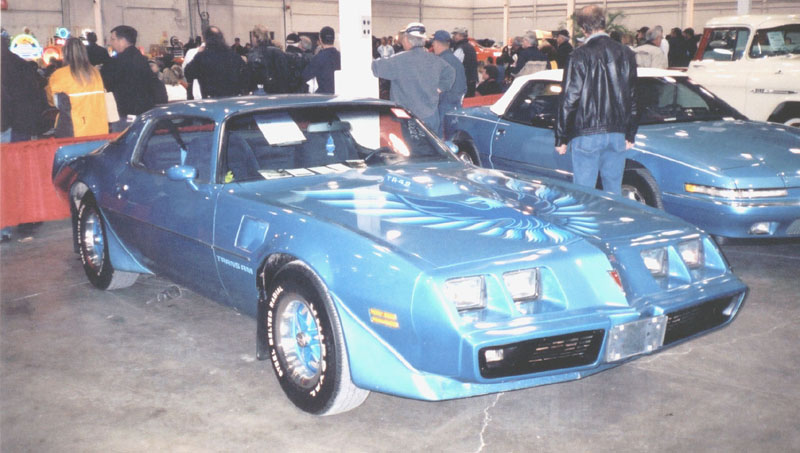 The last TA was finished in bright " arrest me, I'm speeding" orange with black shaker and fender scoops. I would've painted the rad support behind the grille black, though. Big centerline mags and boy racer engine goodies promised a fast, if noisy drive. The shaker hood is fiberglassed to the hood, by the way. A huge "you-go-figure" was a stock tan interior. This 1980 was bid to $14,017 which likely just covered the paint, body and engine work. Spectacularly sold, I'd suggest the owner just drive it until the wheels fall off because restoring this to original will leave you underwater with the Loch Ness monster.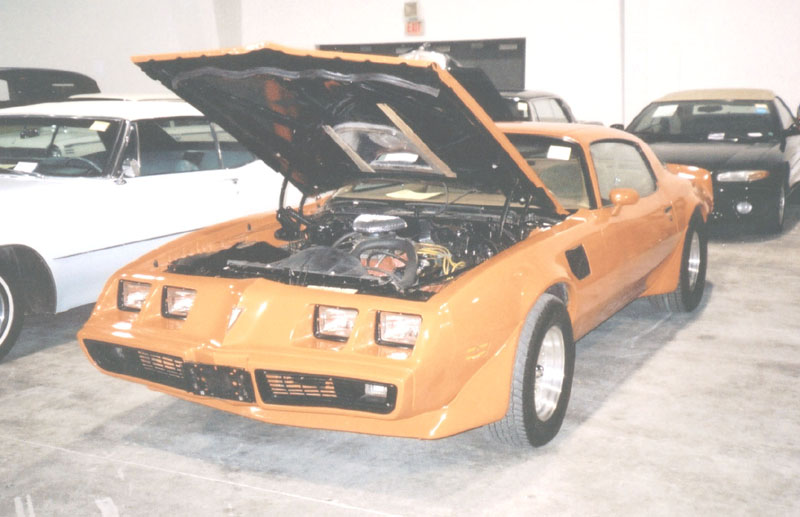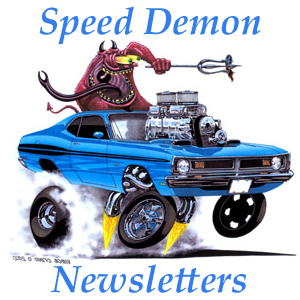 ---