Pat Smith's: Speed Demon News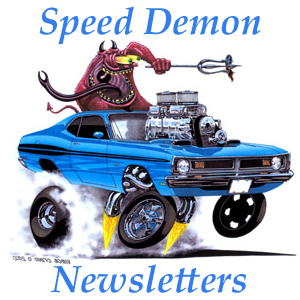 Pat writes these newsletters exclusively for the Bandit Club, and has also started a collection of Speed Demon Restoration Tips.
Patrick "Pat" Smith is also a club member residing in Ontario, Canada and has an impressive resume. He's been involved with the car hobby since 1981 with his first car, a 1971 Mustang fastback with a 250 cid straight-six. That car honed his tune up skills and introduced him to the world of car restoration. During the 1980s, he was involved with North America's muscle car revival and worked on a number of '60s and early 70's machines. Pat has owned several cars including three 1970's era 'cudas, a 1966 Mustang and a 1969 Plymouth Satellite. He graduated from Centennial College of Applied Arts & Technology in 1988 with a diploma in Automotive Technician and Dealership Administration, followed by a B.A. from Guelph University. He later honed his writing skills at Seneca College, where he graduated with an honors diploma in Corporate Communications.
Patrick has worked since 1987 with many automotive concerns including Frost Pontiac-Buick-Cadillac, Hyundai, AMC Jeep-Eagle, and Canadian Tire Corporation. He has graduated from several automotive courses on tires and batteries and holds an honors diploma in fuel injection, engine management, brakes, exhaust and emission controls.
After eighteen years of involvement in autos, he started writing about cars in 1999 with Canadian Classics magazine as a technical columnist, road test reviewer, then as managing editor. His work appears in the Toronto Sun, Globe & Mail Megawheels site, Vintage Thunderbird Club International Magazine, e Bay Motors Canada website and Car Collector magazine. His latest flame is a 1980 Pontiac Trans Am Turbo SE which he restored and plans to keep.
The history and development of the Special Edition
Auctions versus Reality: A Primer - May 2004
We Flog the 2003 Marauder - June 2004
UR4 Option Mystery Solved! - July 2004
1980 SE Maintenance Updates - August 2004
Oil Crisis...What Oil Crisis? - September 2004
Dodge Shoot out at Hershey Center - Nov. 2004
All Corvettes are Red - February 2005
The Falcon & the Sausage Creature - April 2005
Road Test of the 2005 Thunderbird - October 2005
Get the damn thing off immediately! - December 2005
There's no Room to Rumba in a Sports Car - November 2006
Do me up a drawing of a bandit will you ?
Coolant System Ills & Cures
Tips on Color Matching your Paint Finish
To contact Pat about his work, you can email him at: ekowicca@hotmail.com