Speed Demon News: The Bandit Era Part 2: 1978
By: Patrick Smith
( "That's what we call an attention getter," ) –Sherriff Buford T Justice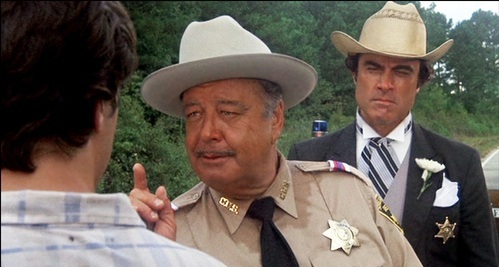 Classic scene from Smokey and the Bandit.
Pontiac Motor Division surely got the buying public's attention in late 1977 with the first Y82 Special Edition Trans Am selling like five cent hot dogs at a baseball season opener. Every young North American male knew exactly what a Bandit, a Blackbird or a Georgia State Special was. Pontiac decided that a few changes were in order for 1978. The headaches involved with Hurst Hatches made Fisher Body's engineers decide to make their own version of removable hatch panels, bringing the entire process in house. Better quality control and a smoother logistical with production are the immediate benefits. Any comptroller will tell you vertical integration of a process pays you once tooling and set up costs are covered. From Pontiac's side, hot sales of the hatch roofs made it logical to go in house.
The marketing executives decided to go big this year and change up the Special Edition model. If black with gold pin stripes was popular, how about reversing the pattern and issuing a gold and dark brown pin stripe Trans Am?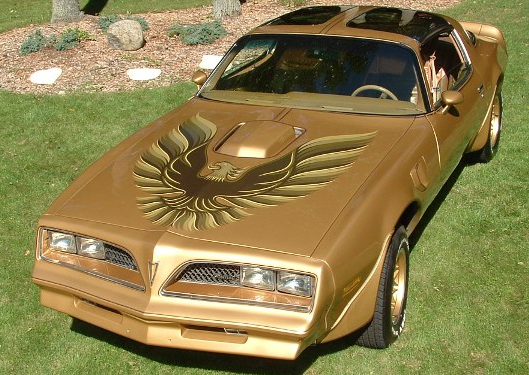 A true Y88 Trans Am, note full gold rims.
Created as a spring promo model, the first Y88s or Gold Bird TAs were produced in January. The Y88 was the UPC code for the Special Edition option using Solar Gold metallic paint, brown pin stripes on all the same areas the Black SE cars used, plus some new features. Fisher's Hatch panels were used on the cars instead of the Hurst units. The panels were screened in gold instead of 20 percent smoke gray tint. Inside, the car took on a new level of sophistication with a Formula steering wheel that matched the steering column color. Prior to the Y88 model, ordering a Formula wheel with a tan interior got you a black steering wheel mounted on a tan steering column. It stood out on an otherwise smooth appearance. Pontiac was tightening up their act with specialty models like the Skybird and Redbird, both featuring color matching columns. It was time for Trans Am SE's to do the same. Only the Y88 Trans Am has this integrated color steering column. Regular Trans Ams still got black Formula wheels mounted on black steering columns.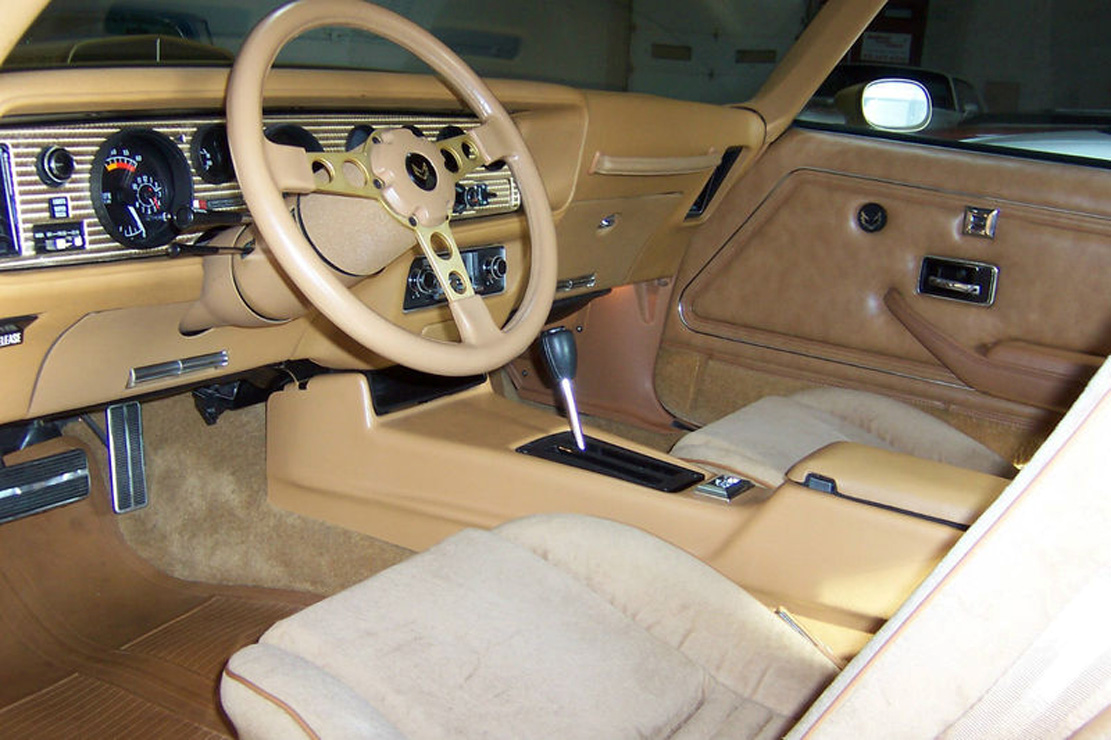 The Y88 was the first Trans Am to use color coordinated steering wheels.
The steering wheel bezel, power window block off bezels, automatic shifter bezel and machined dash trim were gold accented. The only interior color available was tan in either cloth or vinyl. You could also choose between standard or custom trim.
Externally, the Y88 car had satin black windshield trim like the earlier black SE model. A new addition was an all gold aluminum snowflake wheel. Instead of just gold on the laces with polished steel sides, the entire lace was finished in gold, leaving a polished steel outer rim for contrast. These were the new WS-6 performance wheels in 15x8 size. The regular 15x 7 aluminum wheel continued with the gold lace and polished steel sides with thinner machined outer rim.
It should be mentioned here that some Y88s had blacked out tail lamp panels and some did not. A running change was made on March 9th,1978. Basically, the Trans Am was issued with black tail lamp bezel trim from March 9th onwards unless the car body color was black or white and a Formula. Those got gold tail lamp bezels. Brett Campbell at 78ta.com has complete dealer bulletins available online showing the dates for the gold aluminum wheel color changes and the blacked out tail lamp running order change.
The Solar Gold metallic paint deserves a bit of explanation because many sellers and buyers are confused about the terminology Pontiac used and misconceptions have popped up as a result. When you look up the paint code on the body shop chip books, you'll see code 50 listed as Solar Gold. However, not every 1978 Trans Am with paint code 50 is a Y88 car. When the Y88 option was cancelled, Pontiac made it a Trans Am color with the same code number! So at the beginning of the year we had a metallic gold paint code 50 which was available on any Trans Am. Later on, the same color was used on Y88 cars as part of their package. It gets even better. The reason the Y88 package was dropped according to Pontiac had to do with warranty claims dealing with poor color matching, green discoloration of body panels and generally poor adhesion of the metallic gold paint! One more detail. The firebird line also has a code 55 gold paint on offer that year. It isn't a SE color. It's an accent color and was just used as secondary trim paint. In paint reference charts it's called Military or Dust Gold, depending on which make of vehicle it's used on. If you're confused, don't feel bad.
The whole Y88 model nearly was canned. Pontiac almost pulled the plug twice during development. There was a delay with the hatch roof part of the package. Since Trans Ams with gray smoked Fisher tops were produced by December, 1978, the problem wasn't structural. It had to do with the gold tinting of glass. A pilot Norwood Y88 car was built January 13th, 1978. Production was done at Norwood and Van Nuys assembly plants. Van Nuys had to use new technology water based paint. Norwood being in Ohio, still used the older lacquer system. The Van Nuys Y88 cars had paint defects. Paint mismatch from panel to panel was notable, as were dull finishes and green tint caused by contamination.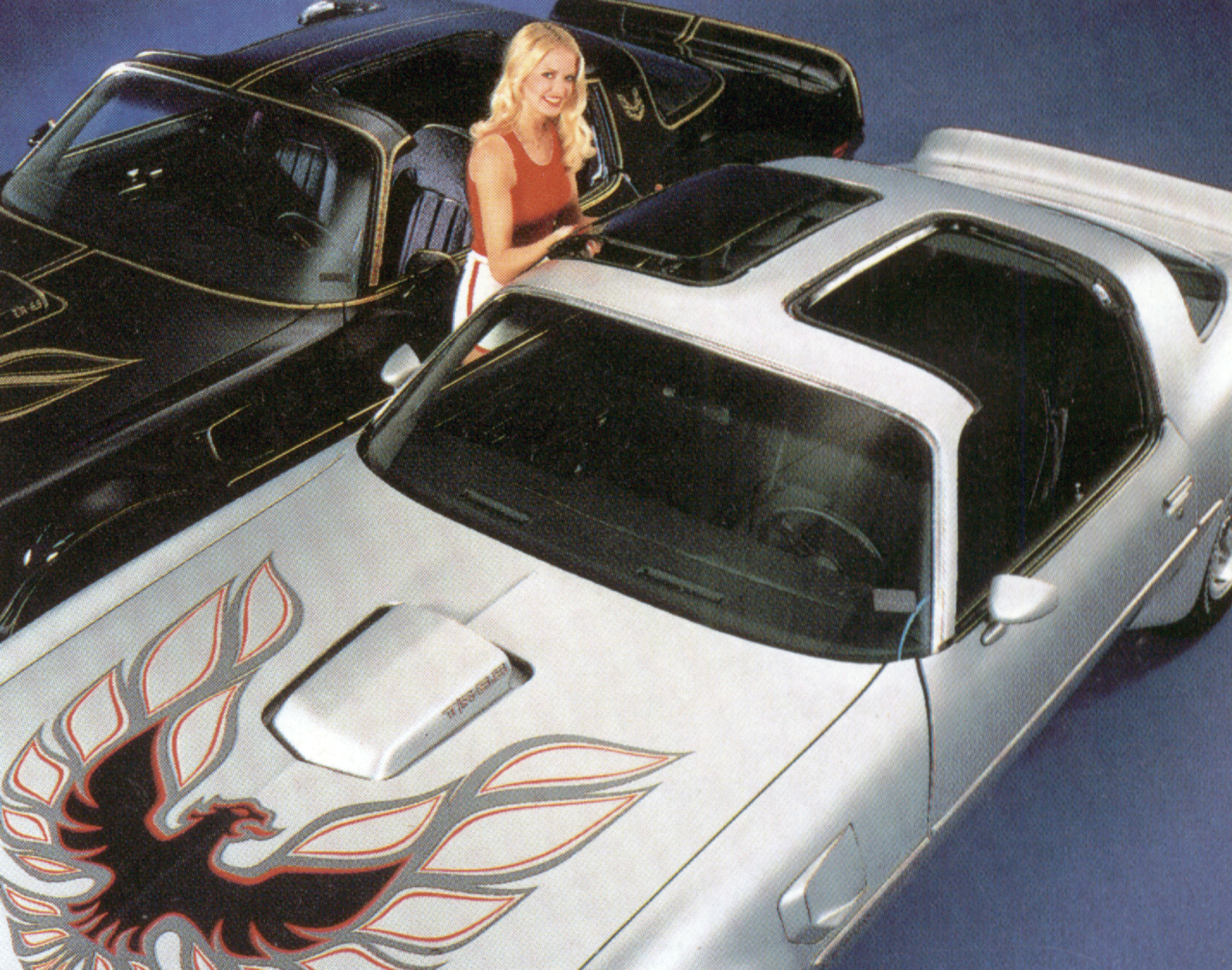 Hurst Hatches were available separately or with the black SE package in 1978.
Re -sprays and touch ups proved to be too much for Pontiac to stomach so the Y88 package was dropped before year's end while the original black Special Edition continued to sell unabated. Pontiac was left with a problem, sales of Solar Gold cars were hot but they had to fix the paint problems. Solar Gold was retained on the order books and it returned in 1979. We'll look at this interesting detail in the next segment of our series. Sales of the Y88 SE package was strong for an aborted mid year introduction; 7,786 cars with the 400 V8 and 880 of the Olds 403 engines rolled off the assembly lines. A sprinkling of the Y88s had manual transmissions, 1,267 according to one source. We know that the 1978 production data has errors in it from research on W72 engine totals, so this can only be considered a rough estimate.
The Goldbird Special Edition has an unusual legacy. Without a movie star or any notable promotion, its legend is filled with myths, mistakes and nonsense. It's common to see every Solar Gold Trans Am being marketed as a Goldbird whether it's a 1979 hardtop or 1980 turbo hatch roof car. It'd be amusing if it weren't for all the extra zeros being attached to the price tag! Just remember when you're shopping it has to be the complete package with gold tinted hatch panels, color keyed steering wheel and column, brown pin stripes, a very large brown and gold hood bird which only was used on that model, plus the additional gold emblems inside the interior. It only appeared from mid 1978 to the end of calendar year.
As for the Black SE cars, production was low that year because of the interruptions by the Y88 program. There were Y82s and Y84s made. The Y82 are Hurst Hatch cars while the Y84 used the Fisher Hatches. Most of the 1978 black SEs used Hurst Hatches. 2,856 automatics and 489 manual transmission Y82s were made. The Y84is much rarer, 88 total and just twenty of those were stick shift. A small amount of Olds 403 Bandits were made; about 210. Today, the black SE model enjoys a strong preference among buyers. The only big money Y88s we've seen to date are W72 four speed equipped. This leads us to the Hot Options section.
Hot Options: W72 High Performance 6.6 Liter- For 1978, the engineers adjusted the W72 by creating a better camshaft and adjusting the compression ratio of the engine. The result was a 20 horsepower gain. Equipped with satin chrome valve covers, shielded fuel line to carburetor, special batch casted block and a set of 350 V8 big valve cylinder heads, the W72 was the hottest performance option available in the engine line. There was a manual transmission and automatic version available early in the year. Read my W72 Engine story, (The Last Trans Am Engine) for more information on it.
WS6 Trans Am Special Performance Pkge- The debut year for a popular suspension option. WS6 featured polyurethane bushings, 15x8 cast aluminum wheels with solid gold tinted snowflakes, matching 15 inch Goodyear tires, massive front and rear sway bars and a quick ratio steering box.
UP6 AM/FM Stereo radio with 40 Channel CB: Unspeakably rare, probably because it was unspeakably expensive at $518.00. I'm sure the owner did a lot of yelling when he saw the option charge. Today, restorers often have to troll abandoned Cadillacs at U-Pull- it-Yards to find these babies.
WY9: Hurst Hatch Roofs: You will come across a few cars with these which aren't SEs. It was a $649 option outside of the SE package. Look for the white Hurst Campbell Industries conversion decal on either the door jamb or the locking side of the door itself. Sometimes they're worn away and is just a blank decal.
Y90 Custom Trim Group: An interior upgrade package including dashboard pull strap, rear seat ashtrays, nicer door panels and other goodies.
Running Change 1: Y82 to Y84 Hatch usage- The first Y84 hatch roof Trans Am was a Y84 model built for Burt Reynolds and presented to him in honor of the Smokey & the Bandit film creating strong sales for Firebird. That car was assembled January, 1978 and went to Prestige Pontiac in Los Angeles. National Parts Depot owns that car and is displayed in Ocala FLA at their museum. Hurst hatch cars were still being made as supplied dwindled.
An Early Y88 Trans Am: - This was a Norwood Ohio car and was shipped to Pontiac Motor Div GMC in Cleveland, Ohio. This was an 08-991 dealer which meant it was a Pontiac company car. Most likely this was originally used for the Los Angeles Auto Show before being shipped for sale to Llewellyn Motor Co in Lorain Ohio. One would have to order a PHS document to find out when Llewellyn got hold of it. It's possible it wasn't until after the Los Angeles Auto Show. The build sheet depicted here isn't pink, flagged or marked as the 1st Y88 made but it does have Pilot Car on it in ink. Pilot Cars are indeed very early, super slowly assembled cars for use in training plant personnel how to put together vehicles and certain option packages as learning tools.
Pilot Y88 build sheet shows it was sent to Pontiac facility before sale to dealer. This was common for early production cars used for R&D or promo work.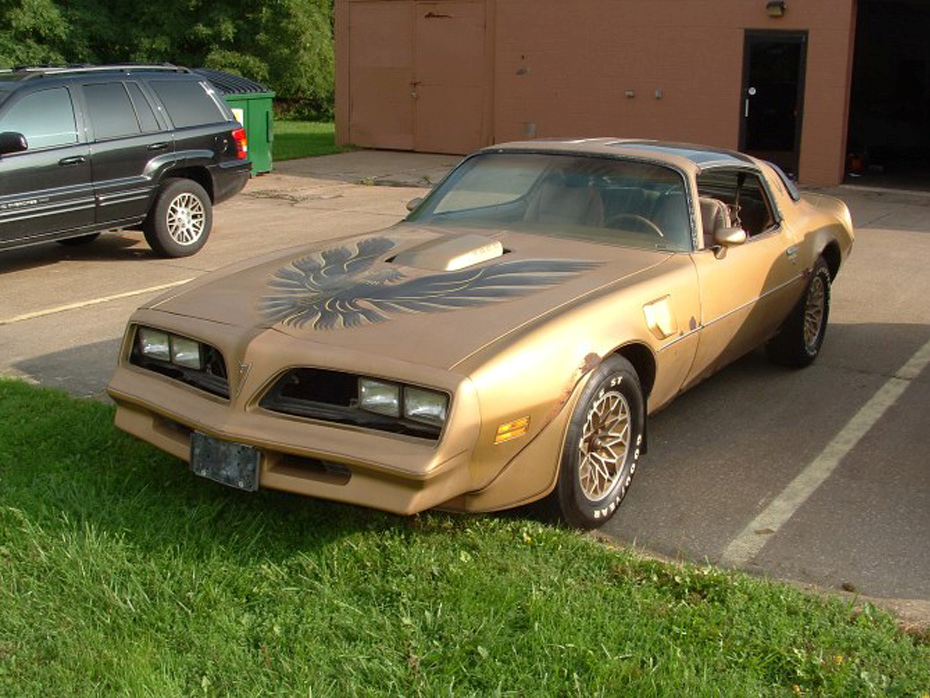 An early build Y88 that is un-restored. Note the large hood bird, tan steering wheel and pin stripes.
The earliest possible drivable car would be a tool room special, produced by "shop rats" and using the bucks and prototype equipment the assembly line would have to use to make production cars. These usually have no serial numbers and are crushed after testing. Next in stage are the Pilot Cars. The First Pilot Car is in fact the first vehicle made for consumer use. However, several Pilot Cars are made so that assemblers get the hang of building them. It isn't uncommon to see up to 15 made at a super slow pace with quality control checks as well. They are often sold to specialty dealers or company owned stores, then transferred out to regular dealers later on. This appears to be what happened with this Trans Am. We hope it gets restored and given the VIP treatment. Special Thanks to Brett Campbell of 78ta.com "hitman trans am" for supplying pictures of early Y88 and build sheet for discussion purposes. Tune in next time for 1979 Special Edition Series.
An old Pontiac Training video called: "1978 PONTIAC - THE BEST YEAR YET - FULL LINE FEATURES"