Tim Herrera


My 1977 Pontiac Firebird Trans Am T/A 6.6 Special Edition with Hurst Hatch T-Tops.

In 1976 my brother Andy drove down to Red Wing, MN. for a visit to Larson Quinn Pontiac dealership. Andy met with the Sales Manager to go over what he was looking for in a NEW '77 Firebird. Andy had already done his research, read national publications, reviews, tests and shootouts: Camaro Vs. Corvette Vs. Trans Am .

A couple of hours later Andy walked out of Larson Quinn Pontiac with, a slip of paper in his hand and headed over to his car. After Scott & Andy climbed into Andy's '59 Vette, Andy handed Scott, our older brother, the paper, a bill of sale showing that Andy just placed a down payment on a special order for a new Firebird. Scott: "Hey Andy! you just bought a Trans Am and by looking this over it looks like you did not forget any options", Andy: "No your right, I thought if I'm going to get a new Firebird I decided to get everything on the dealership option form".

The new 1977 Firebird Trans Am was delivered on July 15th.

Andy is a NON smoker so he did not allow anyone to smoke in his Firebird. Andy didn't drive the Firebird a lot, only a few times to work, and you'd never find any French fries under the seats. Our mother and father did get to take the Firebird out a few times around the lake. And lets not forget, NO dirt roads or drive-in theaters. Yes, Andy stored the Firebird every winter. I was given the chance to take Andy's Firebird for a test drive (yes, he was in the passenger seat) in the Summer of 1983, and I loved it, very smooth handling, it did not seem to have a lot of power off the line. Looking at the dash the odometer read some 18,000+ miles on it ...

Then in 1985 Andy offered to sell me his '77 Firebird for $?,???.?? Well let me see, I know all of the car's HISTORY. Stored winters, no gravel roads/drive-ins, no fender benders, no smoking/french fries and abuse. After all, it was the year that I graduated from High School (Cool) and the release of the Smokey and the Bandit movie. Now are you ready for this, odometer now showed 21,200 miles and I got the Firebird for $5,000.00 (I would have given my brother about what he paid for it).

Now under new ownership, I drove the T/A for a few months in '85 before placing it in storage. In the Summer of 1986 I drove the T/A around for a little bit, had it Professionally detailed, then off to a few local Car Shows. The first Car show I went home empty handed, second show I went home with a 2nd place Award (1st place went to a '40 Merc Street Rod). I got a bit more serious by 1987 and joined POCI and Tomahawk chapter #13. I have been to the Trans Am Nationals back in 1987-'88 with the T/A, and my first POCI Convention was in 1989 ... I LOVED IT! ... and I attended four or five more National Conventions since then.

Never really happy with its Ponchos horse power I decided to pull the W72 T/A 66.6 400 motor for some upgrades. This all started to take place back in 1997. The stock 400 was disassembled and the Crank was given the works, the Connecting Rods were gone over as well, stress relieved, shot-peened and heat treated, .30 over light weight aluminum with GAP-LESS rings. A custom grind Comp Cams order was placed: 512/525 lift & 244/250 duration @108C/L, a complete Comp Cams Magnum Valve train kit was also installed. A new set of Edelbrocks 72cc Aluminum (6058) heads was put in place along with a new RPM Intake Manifold and a modified Q-Jet bored to 830cfm for the Carb Shop. A set of Headman Hustler Headers were bolted up. Then off to the Dyno shop for a brake in period and a dozen pulls, a half day cost about $200 bucks at that time. By the end of the day I was a VERY happy camper. The new 400 (now 406 ci) Poncho made 465hp and 495ft.lbs;tq. WOW! I went home with a big smile on my face.

A few years later I handed my tranny over to the Transmission Doctor for a touch of there TLC. At that time I pulled the 3:23 ring gears and replaced them with a new set of 3:73s. Now jumping up some ten years later (after a very long and hard hibernation) I am off to all new suspension components from GLOBAL WEST: front coils rated at 740lbs, Tubular upper & lower control A-arms, weld-in sub frame connectors, leaf springs and front and rear sway bars.
The stereo will be replaced this Summer with a new Kenwood Excelon sound system, Head-unit, EQ, 3 Amps (1-is a MONO amp) 10 speakers and two of them are 12" subs. No don't worry, I am leaving this job for the Professionals to do the custom install. NO BUTCHER SHOP WORK! I have stressed that the factory interior must look stock.

I want my T/A to look like a Special Edition Black Trans Am (until the owner lifts the hood) or you get on your hands and knees and look at the underside and see a 3" exhaust with X over, etc.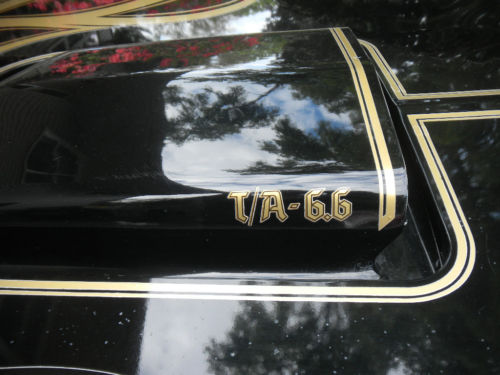 PS: I plan on a new set of 17" X 9" Gold Snowflakes very soon. I hope that everyone enjoyed the History/Story.



---