Will Clayfield


My name is Will Clayfield, and I am 38 years of age. I was born and raised in Brisbane, Australia, where I worked in Brisbanes Premier Chopper shop as a mechanic. I moved to the U.S.A. in 2001, and married my wonderful wife Kristal. We live in Wilmington Ohio, with our 4 children. I am in the process of restoring my 1981 SE turbo Trans Am . It was found at a wreckers just outside Xenia Ohio, after several months of searching.
As money is in short supply, I made arrangements with the owner of the scrapyard to pay off the car, $20 at a time until it was finally mine. We then loaded it onto the truck and drove the 30 minute trip back home, with me grinning from ear to ear, as I've wanted one of these cars for nearly 20 years.
It still needs a lot of work, but that's the whole point of doing something you enjoy. It now has a 400 under the hood, and I am doing all the work, bar the paint myself. I still need to get some springs under the rear. I have wanted one of these cars since I was 18, and now finally I have it! Not bad for a saved $200 wrecker special!
To see more of my Bandit, go to the gallery, and hey mate, don't forget to look at me pal's cars too!

Cheers, Will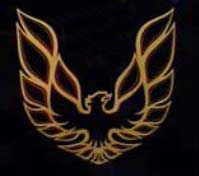 ---