12-15-09 Welcome new club member Rick Dionne from Greene Maine, and check out his unique story about how he found his 77 Bandit Trans Am.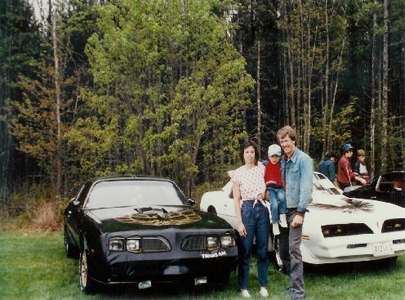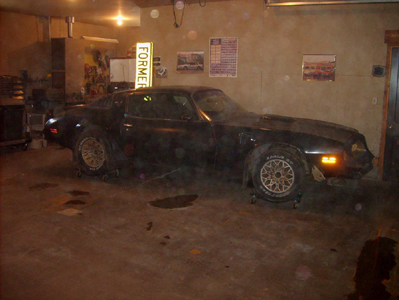 12-01-09 Welcome new club member, and owner of Denmark's Faster Car two years in a row, Steen Pedersen! Check out Steen's member page for video of him racing in Denmark!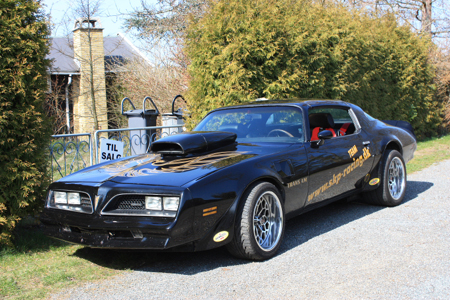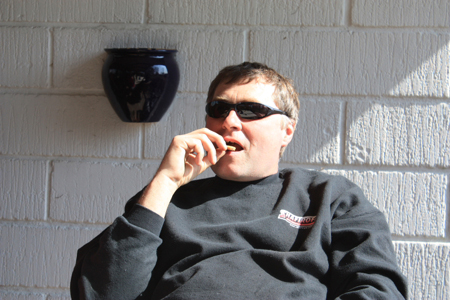 11-11-09 The "World's Fastest Bandit" was added to the club today! Although not a real SE, Dick Jurkowski's 77 Bandit Clone and "World's Fastest Bandit" is a welcome addition to the ever growing Bandit Club website! Dick lives in a small town in Texas.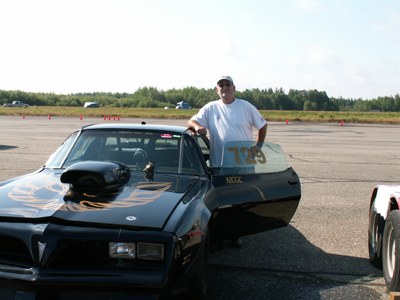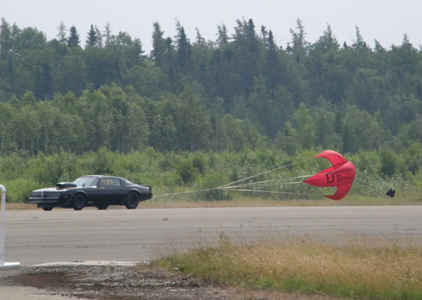 10-13-09 Welcome new club member Jerrod Greene and his 1981 Turbo SE from Tulsa, Oklahoma.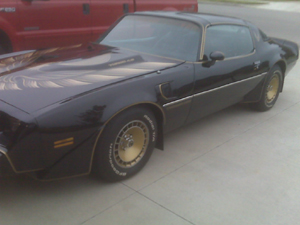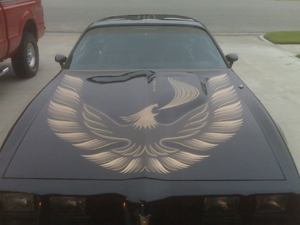 10-01-09 Welcome new club member Clint Lee! Clint has owned his 81 Turbo since 1983! He has a great story about the day he got his car.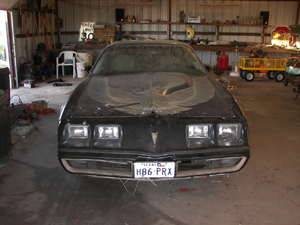 09-10-09 Welcome old club member Dave Winter! Dave was one of the original members of the Bandit Club when Crawford Smith first started it. Dave is the original owner of this beautiful 1977 SE Trans Am!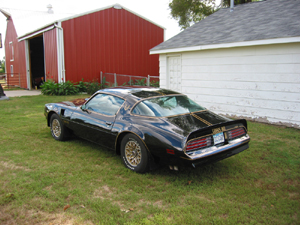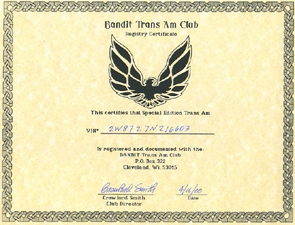 08-10-09 This video was given to the club by Lee Vehe. It's called "How to look like Burt Reynolds" Thanks Lee!
07-27-09 Club member Brandon Atkins did a podcast interview on his cars for The Muscle Car Place.com. www.themusclecarplace.com, his interview is near the end of the podcast. Bewlow are pictures of Brandon and his nephews Evan and Lee.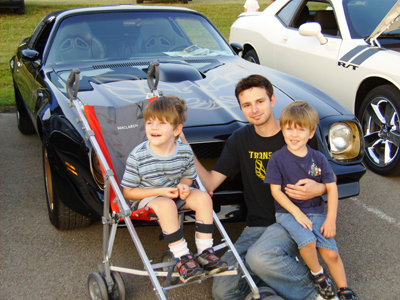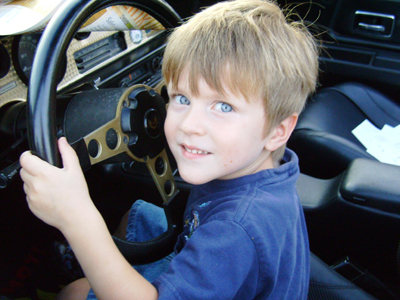 07-20-09 A bunch of us Bandit Trans Am owners got together in Golden Colorado for the Golden Super Cruise on the forth of July in Golden Colorado! Click here for more info: Golden Super Cruise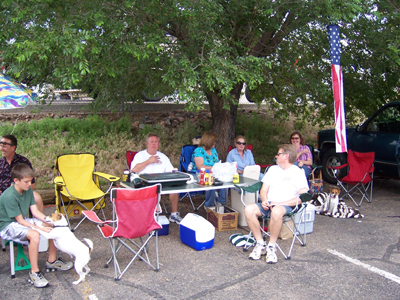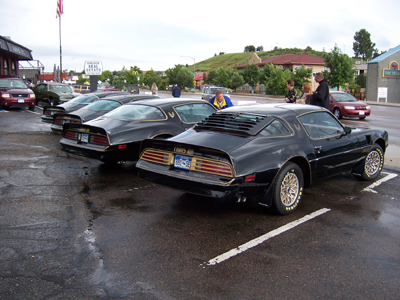 07-13-09 Welcome new club member Doug Shand from Nova Scotia and his real sweet 1980 Turbo Trans Am SE!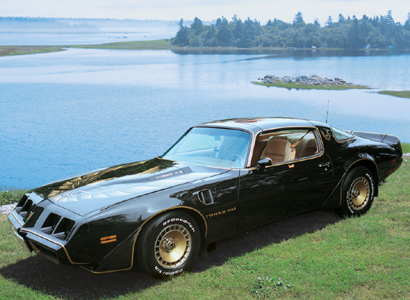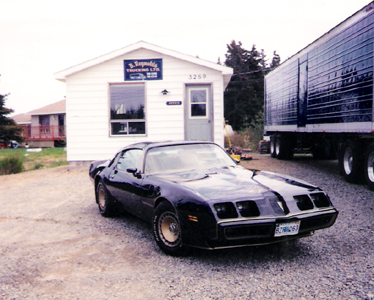 07-03-2009 Club member "Bandit" Rich Beer has had a great year so far with his 3rd place win at the Nutmeg chapter of POCI's All - Pontiac show in Wallingford CT in the semi - modified Firebird & Trans Am class! Muscle Car Review magazine also published a letter he wrote to them and included a picture of him dressed like Burt standing next to his Trans Am! Click here to go to Bandit's member page and read more!
06-15-2009 Club member Tyler Hambrick is in the news with his Smokey and the Bandit Kenworth at the 2009 Bandit Run! Click here for more details on the truck and the 2009 Bandit Run: Kenworth !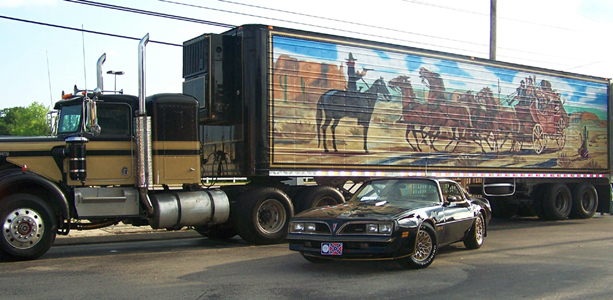 05-30-2009 Check out the latest Speed Demon newsletter from Pat Smith on Coolant System Ills & Cures.
03-30-2009 A big thank you to Brandon Atkins for his generous donation to the Bandit Club this month! Also this update from Brandon in a recent email.

"Hey George, just wanted to send you some updated pics of my car. I just bought a refinished set of 15x8 turbo alloy wheels and wrapped them in Firestone Firehawk Indy 500 tires and put them on my 76 TA. I haven't seen anyone yet with these wheels on a 76 so I thought I would be different. I'm still keepin my honeycombs, I kinda did it to get some piece of mind. I had a center cap fall off one of the honeycomb wheels and got scratched up, not cheap. Also trim rings are very scarce and expensive, I don't have any really nice condition 15 inch rings. The turbo wheels look quite nice on the 76! Take care!!! Brandon Atkins" They do look pretty cool!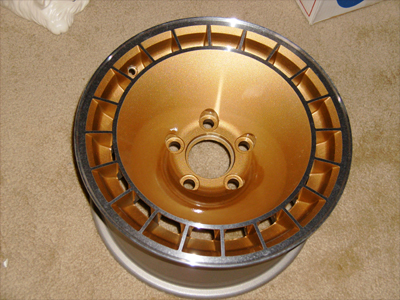 03-27-2009 Welcome new club member Al Romao and his 1980 Y85 White Trans Am Special Edition Pace Car! Al is from Elizabeth New Jersey!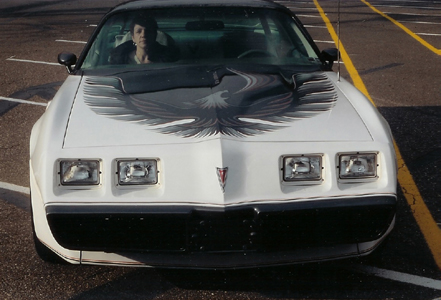 03-20-2009 Congratulations to David Hershey for his first place win at the Arkansas Pontiac Associations big spring show in Little Rock, Arkansas! Also, coming in August, his Bandit car will be featured in the new Will Ferrell comedy called 'The Goods: The Don Ready Story'. The movie is due out in August and is about a used car salesman (Jeremy Piven) tasked with selling all the cars at his lot over one weekend. David said, " My car is featured as the 'marquee' car on the lot and several principle scenes were shot in it. The movie co-stars Ving Rhames, David Koechner, James Brolin and Alan Thicke. The attached pic of my wife, Lori aka Frog with David Koechner and my car in the background. The special fx team had to make it look very beat up and worn with FX powder. I nearly had a cow when I first saw it! The movie was shot in 2008 near Pasadena, CA. The movie producers specifically asked for a black 1977 Trans Am...Will Ferrell has great taste!"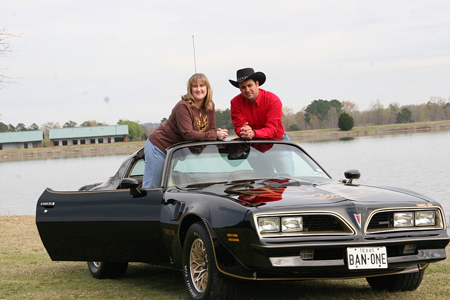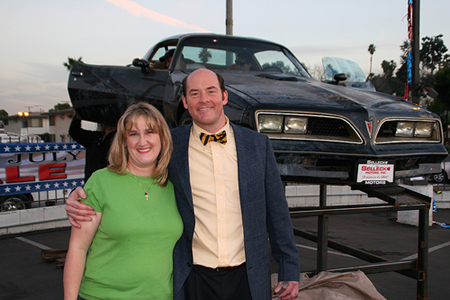 03-10-2009 Bob Phillips is selling his one and only 73-74 Chicago Auto show Bandit Prototype in the Mecum auction coming up May 16th!
02-21-2009 Tony Tirone wins at the 6th Annual All Firebird Lawn Show! This time Tony takes Best of Show! You can read all about it in the May issue of High Performance Pontiac!
02-19-2009 Tony Tirone takes 2nd place with his 77 Bandit Trans Am at the 2008 Trans Am Nationals! You can read about his win in High Performance Pontiac Magazine online!
02-18-2009 Brandon Atkins is in the news again in the UPS newsletter highlighting his appearance at the Churchill Downs car show called "Concours d'Elegance" to raise money for Brooklawn Child and family services. Way to go Brandon! It's things like that, that makes Bandit Club members shine! Click here to see the pictures and read the story!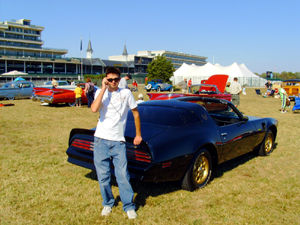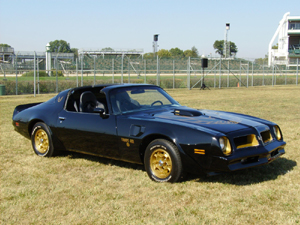 02-13-2009 Brandon Atkins' 76 50th Anniversary TA and his story is in the April 2009 Hot Rod Magazine! Way to go Brandon! Click on the pictures below!
To view the previous years announcements click on these links: Announcements from 2004-2005 2005-2006 2007 2008 2009 2010 2011 2012 2013